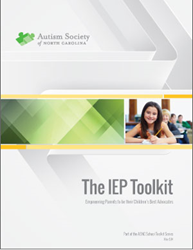 Raleigh, NC (PRWEB) April 29, 2014
The Autism Society of North Carolina (ASNC) is introducing new toolkits to help empower parents and caregivers of individuals with Autism Spectrum Disorder (ASD). The free guides will be available on the ASNC website so that anyone may read, download and print them.
The first two toolkits, on Individualized Education Programs (IEPs), are meant to empower parents and caregivers of school-age children. They were researched and written by ASNC's Autism Resource Specialists, who are themselves parents of individuals with autism and now work with families in need of support. An IEP is a written statement of the educational program specifically designed to meet the individual needs of a student with special needs. A strong IEP is an important part of ensuring a child's success in school.
To read the toolkits, please click here: http://bit.ly/ASNCSchoolIssues.
The toolkits were posted last week as part of Autism Awareness Month. Throughout the month, the Autism Society of North Carolina has highlighted the challenges faced by families and individuals affected by autism in our state, and how the community can support them as they work to overcome these issues and lead fulfilling lives.
ASNC plans to introduce more toolkits on a variety of topics in coming months.
Background:

Autism Spectrum Disorder (ASD) is a lifelong developmental disability that typically appears during the first three years of life. Recent studies estimate that up to 1 of every 58 children born in North Carolina will be affected by ASD.
For more than 44 years, the Autism Society of North Carolina has worked to address areas of need and expand services for the autism community in North Carolina. ASNC works to directly improve the lives of individuals affected by autism, by providing advocacy, education, and services.
Additional information is available by calling 1-800-442-2762 or by visiting http://www.autismsociety-nc.org.