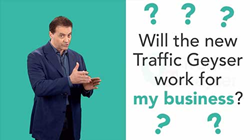 Upload your video or message once and click a button, Traffic Geyser will distribute it to the best video, social media and networking sites including Google, YouTube, Facebook, Twitter, LinkedIn and more to billions of smartphones, tablets, TVs and cars.
(PRWEB) April 30, 2014
Mike Koenigs today announced the launch of his newly-enhanced Traffic Geyser 2.0. Traffic Geyser has simplified marketing for over 30,000 small businesses, entrepreneurs, authors, experts, speakers, coaches and consultants in over 60 countries. The latest release makes sales and marketing communications across over a dozen multiple social media platforms easier and more effective than ever before.
Koenigs' client list includes some of the largest corporations worldwide. In addition to NY Times #1 Bestselling authors and celebrity icons in various arenas his friends/clients include Paula Abdul, Tony Robbins, John Assaraf, Jack Canfield Brian Tracy and many others well known professionals. Across the globe, over 30,000 businesses use his marketing simplification products.
Today's largest corporations and social media sites, such as Apple, Google, Amazon, YouTube, Facebook, Twitter, LinkedIn and Yahoo, control direct access to very nearly the entire human race.
Traffic Geyser distributes content to all of the major networks and provides content distribution, lead generation, follow up and marketing automation in one simple tool that consolidates and eliminates the need to have five or six different tools or systems, consequently reducing training needs and operating expenses by hundreds or thousands of dollars every month.
Traffic Geyser 2.0 offers busy owners, from solopreneur to worldwide corporation, to produce lead generating emails, videos, and every type of media communication to be sent to customers just by pressing a button.This enables users to get their messages across multiple platforms, allowing them the maximum exposure to potential clients and customers, helping turn these leads into loyal customers who escalate into repeat buyers.
Mike Koenigs is CEO and co-founder of Traffic Geyser and Instant Customer. He is author of five #1 bestselling books, a filmmaker, public speaker, entrepreneur, philanthropist and patented inventor. After the Internet opened to the public in 1989, within just two years Koenigs had become one of the first successful Internet business people producing many early online products, games and tools.
Koenigs provides updated, cutting-edge training for his Traffic Geyser 2.0 clients. These include many of his market-proven secrets, strategies and techniques such as the "Distruptisaurus", methods to produce professional marketing videos with as little as $200, the Life with Tesla documentary that features a lifestyle with a solar-charged, all-electric car and home, a file that compliments his video on the importance of using documentary videos in sales and marketing.
Wendy Stevens, bestselling author, speaker, mentor, coach, co-founder of The 5 Pillars of Online Sales Success Webinar training developed with marketing star Mike Weiss and podcast host, realized how effective Traffic Geyser 2.0 can be for business professionals. Stevens immediately saw how her own online sales and marketing businesses could benefit by implementing Traffic Geyser 2.0 and is now recommending and endorsing the product to other business professionals for improving communication productivity in their own organizations.
Learn more about this innovative tool at TrafficGeyser.com.