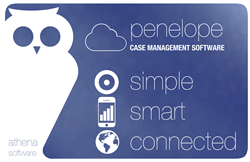 We are proud to be one of the first case management systems to receive accreditation to connect to Australia's e-health infrastructure.
Waterloo, ON (PRWEB) April 28, 2014
Australian users of Penelope, a web-based case management software application developed by Waterloo, Ont. tech firm Athena Software, can now connect their client records to the Personally Controlled eHealth Record System (PCEHR).
PCEHR is the Australian government's initiative to provide a secure online summary of an individual's health information. 
The full integration and connectivity between Penelope and PCEHR is a joint effort by Athena and Sinapse, a Melbourne-based consulting firm who are Athena's partners in Australia.
PCEHR allows doctors, hospitals and other healthcare providers to share information to enable the best possible holistic care provision to clients, while giving individuals greater involvement in their healthcare choices.
As the full name of the e-health system implies, this system also gives each individual personal control over what makes up their e-health record, as well as who can access it.
This is a perfect fit with Penelope, an integrated and innovative case management software solution whose intuitive design allows service providers to collaborate and make smarter decisions to improve client care.
Penelope has received Compliance, Conformance and Accreditation (CCA) approval to retrieve and share information with PCEHR, effective immediately.
  
As part of the CCA-approved solution, Penelope can now utilize the following services:
 
·       Obtain a client's Individual Healthcare Identifier (IHI)
·       Validate a client's IHI
·       View a client's Shared Health Summary
·       Upload a client's Discharge Summary following the end of an episode of care
·       View a submitted Discharge Summary
 
These services provide the foundation for Penelope to further utilize PCEHR services to accommodate the needs of their Australian customers as the adoption of the eHealth initiative continues to grow amongst Australian healthcare consumers.
"We are proud to be one of the first case management systems to receive accreditation to connect to Australia's e-health infrastructure," said Dana Fox, director of business development at Athena Software. "Penelope is an innovative, flexible and secure system, and we are excited about the possibilities for organizations and their clients as health records around the globe move online. We look forward to helping agencies worldwide go digital in a simple, smart and connected way."
This news comes in advance of Athena Software's impending Australian 'road show,' a tour of three cities in three days that will be presented by Sinapse. As part of the tour, Fox will visit Brisbane, Sydney and Melbourne from May 12 to 14 for demos and meetings with government representatives and leaders of health and social service organizations in Australia.
 
ABOUT ATHENA SOFTWARE
Athena Software (http://www.athenasoftware.net) is a global case management solution provider based in Waterloo, Ont., Canada. Since 2001, Athena Software has grown to partner with hundreds of organizations across the globe, with over 17,000 end users of its Penelope case management solution.
 
ABOUT SINAPSE
Sinapse is a consulting firm founded in 2008 and based in Melbourne, Victoria in Australia. Since its inception, the company has expanded to include over 50 full-time consultants. Besides its consulting work in the mining, health and pharmaceutical, Sinapse also has a strong not-for-profit practice implementing and supporting Athena's Penelope software in Australia and New Zealand.