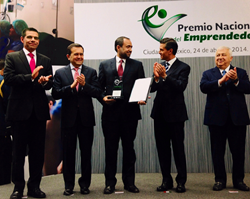 It is a big recognition for everyone at our team. The award is more than an honour, it's a commitment for us to keep moving forward, to be better, to renew ourselves and be successful during this adventure. - Guillermo Ortega, COO of iTexico
Austin, Texas (PRWEB) May 05, 2014
iTexico, a nearshore software services, and mobile and cloud solution development company, headquartered in Austin, Texas, with a wholly owned delivery center in Guadalajara, Mexico, was awarded the 2014 National Entrepreneurship Award (Premio Nacional del Emprendedor) in the small business category by Enrique Peña Nieto, the president of Mexico.
The 2014 National Entrepreneurship Award is given by the Government of Mexico to the most promising companies and individuals who are making a significant and positive impact to the Mexican and global economy. iTexico was selected from more than 8,500 applicants.
On April 24th, at the Mexican presidential residence, President Enrique Peña Nieto recognized 10 entrepreneurs and two educational institutions for their remarkable innovation, originality and impact.
"When we launched iTexico in 2011 and started building our team in Guadalajara, we had no idea how much impact we would have in terms of employee development and growth in Mexico," said Anurag Kumar, CEO, iTexico. "Over the last three years, we have grown to over 80 employees and have worked with over 80 clients in North America. Our team's expertise and work ethic has moved the IT services sector in Mexico significantly, proving that talent in Mexico can match the best in the world in quality and service. I want to thank our team for the effort and President Nieto for recognizing us with this honor."
In addition to receiving the 2014 National Entrepreneurship Award, iTexico was also recognized with the Special Productivity Award, which is given to organizations whose performance is significantly higher than the national average.
"iTexico has a clear mission to bring world-class software development services at an affordable price and close proximity to its clients in the United States. This award provides us external validation of our business model and quality of our delivery. That is why this 2014 National Entrepreneurship Award is so motivating for the entire team at iTexico," said Guillermo Ortega Simón, COO, iTexico. "The award is more than an honor; it's driving us to redouble our commitment to help our clients achieve their goals in a timely and affordable manner in Mexico and beyond."
iTexico continues to drive innovation and world-class software development services. iTexico's cloud and mobile app development team has extensive experience in native languages for iOS, Android, Blackberry and Windows mobile devices, as well as expertise in many technologies for backend and frontend cloud development.
Additionally, iTexico has extensive Xamarin expertise and the largest team of Appcelerator Titanium Certified Developers in North America. iTexico's Extended Team as a Service (eTaaS) model allows customers to get flexible and expert assistance, and infrastructure support from experienced professionals as part of their near-shore extended team.
About iTexico
iTexico is a fast-growing US-based company headquartered in Austin, Texas, with offices in Silicon Valley and Guadalajara, Mexico that help technology and publishing companies bring their software solutions to market faster at lower costs and higher quality. The company does this by providing world class multiplatform mobile and cloud development, outsourced software development and testing services, extended teams, and world-class training courses. iTexico currently serves a large number of clients across North America.