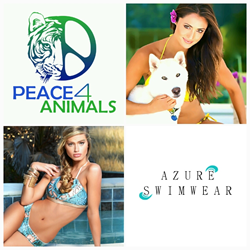 It is a race against time to help save these magnificent animals from becoming extinct, and what better way to raise awareness but through fashion.
Los Angeles, CA (PRWEB) April 30, 2014
With the launch of the 2014 Collection, Azure Swimwear has teamed up with actress and model, Katie Cleary and Peace 4 Animals to help save wild endangered tigers by donating to P4A on every animal print bikini sold from their current summer collection.
Top Model, award-winning Producer, and President/Founder of Peace 4 Animals and World Animal News, Katie Cleary, and Swimwear designer, Leslie Davis of Azure Swimwear, have teamed up to help protect the last wild tigers from extinction, due to poaching for their parts used in ancient Chinese medicine, and their skins for trophy hunting along with habitat loss and destruction. With only an alarmingly 3,200 left in the wild, a dramatic decrease from the early 20th century, where a population of over 100,000 existed, it is a critical race against time to help save these magnificent animals who have been a crucial part of our planet for over a hundred thousand years.
Katie Cleary is the founder and president of Peace 4 Animals, a leader in the animal welfare movement in Los Angeles. Peace 4 Animals protects exotic, domestic, and endangered species by educating the public about the most important animal welfare issues, while also rescuing and saving animals locally and partnering with organizations to raise awareness internationally.
Katie first broke into the entertainment industry on the hit show "America's Next Top Model", and has appeared on the hit TV shows "CSI NY," "Las Vegas," "Entourage,""Rules of Engagement," "Chuck" and also hosted shows, such as the TV Guide Channel, E! News Now, and the travel show "Get Out" on HDNET. Katie was also named one of "People Magazine's 100 Most Beautiful People", and we can understand why. Cleary is the creator and producer of Give Me Shelter; winner for Best Documentary Short at the 2013 Los Angeles Cinema Festival of Hollywood. Cleary's film is set to be released this October 2014.
Azure Swimwear has also made a name for themselves in the fashion industry, with their bikinis featured in Sports Illustrated Swimsuit, the 2014 Dallas Cowboys Cheerleaders Calendar and the 2014 Miami Dolphins Cheerleaders Calendar, as well as being the Official Miss South Carolina swimwear sponsors and patrons. Venezuelan designer, Leslie Davis, was raised in South Carolina and is influenced by both cultures when creating her gorgeous collections. Not to mention, all swimwear is made right here in the USA.
This is one sexy collaboration, helping to raise awareness and save endangered species one bikini at a time.
How can you help? Check out their current 2014 Summer Collection, and with every snakeskin print bikini sold, Azure Swimwear will donate a percentage of sales to Peace 4 Animals to help protect these endangered species.
You can learn more about how you can help and donate to Peace 4 Animals at http://www.Peace4Animals.com and WorldAnimalNews.com.
Azure Swimwear 2014 Collection - http://www.azureswimwear.com.