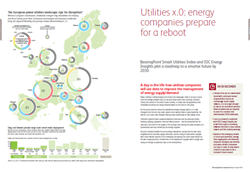 Nick Dussuyer BearingPoint Partner: "The UK is preparing for one of the largest smart-meters deployments in the world in a very sensitive market environment."
London, UK (PRWEB UK) 29 April 2014
Utilities companies are facing dramatic upheaval caused by new entrants and unpredictable supply and demand, as a decentralised European utilities market emerges. A new BearingPoint Institute survey of European utilities undertaken in partnership with IDC Energy Insights and West Monroe Partners shows a vast gap between current abilities and competencies required to succeed in the future. For instance:

Only 28% of European utilities surveyed offer personalised tariffs for consumers, though there are signs of improvement with 55% collaborating with customers to innovate.
Just 33% of utilities engage with new entrants with an IT and communications background, such as search engines, price comparison websites, e-tailers and start-ups.
The UK has a strong ambition to grow the renewable share of its energy mix and improve energy efficiency to reach its low carbon transition goals. However energy price increases in the past few years has made energy policy highly sensitive. The need for more flexibility from the energy system is now becoming crucial to ensure this transition occurs for the benefit of all players and is not just an additional levy on the customer bill.
The UK is now preparing for the largest smart-meter deployments to date, it will bring new flexibility to the system. In the meantime the UK, as one of the most deregulated markets in Europe, will become a benchmark for others as competition will force UK utilities to adopt new business models and transform themselves faster to face-up to new market entrants.
The micro-grids operator, the energy data aggregator and the demand response manager
The BearingPoint Institute paper predicts that three new market positions will emerge: the micro-grids operator, the energy data aggregator and the demand response manager. Out of this fast changing market landscape comes opportunities. These new entrants have the potential to profoundly disrupt incumbents, potentially making customers the ultimate winners. As one survey respondent puts it: "The key market trends of technology advancements, decentralisation and regulation uncertainty are set to put the consumer at the heart of the business model." Dr Walter Steinmann, Director, Swiss Federal Office of Energy
Choosing the right course will depend on a company's existing competencies. Based on the survey, the BearingPoint Smart Utilities Index evaluates those competencies along the following five dimensions:

Big data competency – 55% of respondents expect big data to contribute at least 10% of revenues in 2025, offering a big opportunity for the leaders to establish market share
Virtual energy production and flexible response to energy demands – 45% of those asked think virtual production will represent 5% or more of their total production
Micro grids and nano grids – a quarter of participants have micro-grid and nano-grid management in place, but only German and Italian respondents currently derive significant revenues from it
Horizontal and open organization – 43% of respondents claim to be engaging with universities and 28% with a network of developers as sources of innovation become valuable
Customer engagement and confidence – the vast majority of surveyed companies (82%) claim to engage with their customers, with social media and customer forums being the most common method. It will be those who can establish customer confidence and build symbiotic relationships that prosper.
Nick Dussuyer UK Resources and Utilities Partner: "The UK is preparing for one of the largest smart-meters deployments in the world in a very sensitive market environment. This is the first step of a journey that will see the utilities landscape drastically change. Utilities will need to adopt new competencies around data-analytics and customer engagement and work with third-party players in an open-organisation to successfully accomplish this journey."
Emmanuel Autier, leader of the utilities segment at BearingPoint France and co-author of the study, said:
"The competitive and business landscapes of traditional utilities will change in the coming years to such an extent that they will have to adapt and develop new set of competencies or face the risk to be marginalised and to lose the link with their customer and all the related value. It is not too late for them to evolve, but new players are entering the market and the need for change is crucial."
According to Roberta Bigliani, Associate Vice President Head - Europe, Middle East & Africa, IDC Energy Insights:
"The pace of change is quickening up in utilities, a capital intensive industry where projects traditionally run for decades. With deregulation, distributed generation and new entrants coming from the IT and telecommunications world, utilities are facing completely new expectations."
Tom Hulsebosch, Managing Director for Energy and Utilities at West Monroe Partners observed:
"The differences between US and European utilities in planning, installing and using new technologies have created unique solutions that are very relevant for utilities on both sides of the pond. Furthermore, the US diversity in regulatory, customer and workforce management drivers has created a living 'test' lab for technology evolution and business model transformation occurring at increasing speeds."
To read more about how utilities can build capabilities to address fast moving market dynamics, please download the BearingPoint Institute paper "Utilities x.0: energy companies prepare for a reboot", which can be found at http://inst.be/004UX0.
About the research
The first edition of the BearingPoint Utilities Smart Index was devised from a study undertaken with IDC Energy Insights by 40 utilities firms from France, Germany, Italy and the United Kingdom in January 2014. This survey was complemented by qualitative interviews with utilities leaders from these four countries plus Ireland, Switzerland and the USA. The interviews from the USA were provided by West Monroe Partners, a US consultancy firm focusing on M&A, customer experience, operations excellence and advanced analytics across a number of industries. The result was the inaugural BearingPoint Utilities Smart Index, which evaluates utilities companies across five competencies.
About the BearingPoint Institute
Founded in 2009, the BearingPoint Institute is an incisive, authoritative voice on business-critical topics, which brings together the finest minds from both within and outside the BearingPoint organisation. We strive to:

Advise business leaders to understand the evolution of the global economy at a deeper level
Explore new thinking, going beyond straightforward "Thought Leadership"
Propose new points of view about strategy and organisational change, and stimulate debate
This is achieved by offering practical, real-world advice from:

A leadership team composed of senior BearingPoint Partners, representing geographical diversity and a wealth of capabilities
An independent Advisory Board formed by recognised business leaders and academics
Studies made by experts illustrated with real-life highlights
More information:
Web: http://www.bearingpointinstitute.com
Twitter: @institute_be
LinkedIn: LinkedIn
Download the app for: iPad on iTunes | Amazon for Android | Google Play
About BearingPoint
BearingPoint consultants understand that the world of business changes constantly and that the resulting complexities demand intelligent and adaptive solutions. Our clients, whether in commercial or financial industries or in government, experience real results when they work with us. We combine industry, operational and technology skills with relevant proprietary and other assets in order to tailor solutions for each client's individual challenges. This adaptive approach is at the heart of our culture and has led to long-standing relationships with many of the world's leading companies and organisations. Our global consulting network of 9,200 people serves clients in more than 70 countries and engages with them for measurable results and long-lasting success.
For more information, please visit http://www.bearingpoint.com.