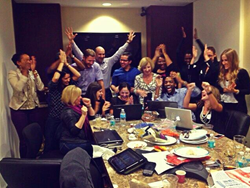 Give Local America is a major stride forward for the nonprofit sector – it leverages the proven local giving day model to create a high impact, mid-year, national giving event.
Austin, Texas (PRWEB) April 28, 2014
Twitter, Facebook and other social media along with mobile gadgets are abuzz as 7,000-plus nonprofits in local communities nationwide gear up for and get out the word about "Give Local America" on May 6, anticipated to be the largest, one-day, charitable, online crowdfunding event to date.
Organized by Kimbia, the leading provider of technology for increasingly popular online giving days, Give Local America celebrates the 100th anniversary of community foundations in the United States and the vital role they play in fostering local philanthropy.
The 24-hour campaign seeks to motivate everyone to donate to his or her favorite causes on May 6 as well as throughout the year. In most of the 120 participating communities, community foundations are promoting and executing the local giving days in collaboration with nonprofits actively involved in the event. Give Local America is expected to transform grassroots philanthropy in the United States by activating a record number of people, including many new donors, to support the hometown charities that make a profound difference in their communities – all with just a few mouse clicks.
Give Local America additionally will introduce many nonprofits to the benefits of online donation technology, which can significantly increase fundraising and donor acquisition – both perennial needs of charitable groups.
"Give Local America is a major stride forward for the nonprofit sector – it leverages the proven local giving day model to create a high impact, mid-year, national giving event," said George Stevens, President and CEO, Coastal Community Foundation in Charleston, South Carolina. "It will remind Americans to be philanthropic at the local level throughout the year – not just during the year-end, holiday season when so many people are planning to donate anyway."
Dan Gillett, CEO, Kimbia, echoed those sentiments. "At a time when it is often easier to give internationally than it is to help people and causes in your own community, Give Local America will serve as a catalyst to reignite the spirit of local philanthropy here at home," said Gillett. "Key to this effort are our community foundation partners who do a marvelous job of assisting donors by identifying those charities that are having the greatest impact in their local communities."
The successes of Kimbia-powered community giving days – such as the 2013 North Texas Giving Day which raised $25.2 million in just 17 hours – inspired organizers to create Give Local America. The event will also provide a much needed springtime complement to Giving Tuesday – a national day of giving on the Tuesday following Thanksgiving, Black Friday and Cyber Monday, which was established in 2012 to kick off the annual holiday giving season. Local giving days also enable organizations to recruit a lot of new supporters – for some giving days, new donors can represent up to 60 percent of all contributors.
Participating nonprofits range from small organizations to some of the nation's best known groups, e.g., Nature Conservancy and Salvation Army. To make participation easy, every community gets a uniquely branded giving day website plus donation forms that can be embedded in under two minutes. Community foundations and nonprofits can provide the forms to their local business partners so they can fundraise, too. There's also training on social media promotion and capacity building, along with match day toolkits and website-embeddable, real-time leader boards.
So far, participating community foundations and nonprofits have collectively amassed $5 million in local community matching funds to encourage more giving and amplify the impact of every dollar raised. Everyone can watch the day's progress on the national and community-focused Give Local America websites, which will show all donations as they come in, and they also can track the social media chatter on Twitter and Facebook using the #GiveLocalAmerica hashtag.
Celebrities signed up to support local communities participating in Give Local America include:

Award-winning actor Kevin Bacon, along with his nonprofit, SixDegrees.org which connects celebrities to local nonprofits to help promote their activities and missions. Bacon is lending support to "Give Day Tampa Bay," offering donors an opportunity to win a personalized message from him or an extra $1,000 toward their cause.
Rob Van Winkle, better known at Vanilla Ice. The rapper, actor and TV show host is advocating for the GREAT GIVE in Palm Beach and Martin Counties.
Allen Toussaint, a two-time Grammy award winner who wrote a jingle for a television PSA promoting GiveNOLA Day, hosted by the Greater New Orleans Foundation.
Additional metropolitan areas and states taking part in Give Local America as a result of Network for Good's partnership with Kimbia include but are not limited to:
Baltimore
Charleston
Chicago
Connecticut
Denver
Los Angeles
Louisville
New Haven
New York
Oakland
Portland (Oregon)
Raleigh-Durham
San Diego
Sarasota
St. Louis
Washington, D.C.
About Give Local America
Give Local America is a movement to reignite the spirit of giving across the country and support causes in the communities where we live, work and play. On Tuesday, May 6th 2014, join us in celebrating 100 years of local philanthropy through the work of community foundations. From coast to coast, people will "give local" via their community foundations or directly to participating, hometown nonprofits. For many donors, this will be the first time they contribute to their community foundations and/or local nonprofits. For more information, visit http://www.givelocalamerica.org.
About Kimbia
Kimbia's flexible, best-of-breed, Omni-Channel Fundraising™ platform enables an organization to create a deeper donor relationship by leveraging the strengths of each channel and putting donors at the center of all development activities. Ultimately this approach results in greater brand awareness, giving and lifelong loyalty. Kimbia is proud to support more than 5,000 customers to date, including the American Heart Association, Smithsonian Institution, YMCA of Metropolitan Dallas, Columbia University, Georgetown University, WGBH – Boston, KCSM – San Mateo, The Ragnar Relay Series, the Bank of America Chicago Marathon, Communities Foundation of Texas, Community Foundation for Greater New Haven and The Boston Foundation. For more information, visit http://www.kimbia.com.
# # #