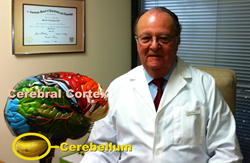 Dyslexics with severe reading comprehension problems due to a primary cerebral processing dysfunction do not exist, albeit their disorder does.
Great Neck, New York (PRWEB) May 01, 2014
Since dyslexia may affect over 10% of the population, it is crucial to clarify its true essence and existence while correcting misconceptions. An almost five decade-old research effort beginning in the 1960's led Dr. Levinson to propose and prove a "highly original and challenging" alternative hypothesis required to solve the many scientific riddles and conflicts characterizing dyslexia.
Historically, reversal-prone dyslexic children with typical reading, writing, spelling and math problems were first recognized over a century ago. Right from the start, this multi- symptomatic reversal disorder was believed to be identical to acquired adult alexia. And alexia was proven via autopsy due to a failure of the thinking or cerebral brain (eg. brain damage) to recognize the clear reading signals received.
Unfortunately, this traditionally accepted dyslexia concept defied neurological validation and lacked the capability of properly diagnosing, encompassing and explaining dyslexics and their symptoms. As a result, the distinguished authors of The Dyslexia Debate and others felt justified in refuting dyslexia's existence, considering it primarily an educational problem requiring proper remediation. "That's like viewing diabetes as primarily a nutritional impairment because initial medical theories were incorrect," notes Levinson.
By contrast, Dr. Levinson's studies and those of many others established that dyslexics and their disorder undeniably existed. And thus he attempted to discover a valid alternative explanation. Upon analyzing the symptoms characterizing thousands of neurologically examined dyslexics, Levinson recognized significant distinctions between alexia and dyslexia. He thus suggested they were completely different disorders and had differing causes.
"Whereas adult alexics had only severe and irreversible reading comprehension impairments of proven primary cerebral origin with neither reversals nor other non-reading symptoms, the opposite was true for dyslexics," Levinson reported. "I also found that the reading disorder characterizing most all dyslexics was due to improving combinations of spatial, memory, fixation and tracking as well as visual, phonetic and other problems related to a proven primary dysfunction within the inner-ear and cerebellum, man's lower brain. Their thinking brains were found neurologically normal or superior, most often providing vital compensatory capability."
Dr. Levinson eventually recognized and defined dyslexia as a cluster of diverse symptoms or a syndrome resulting when initially normal brain structures secondarily failed to recognize and sufficiently compensate for the scrambled reading and related writing, spelling, math, memory, speech …signals received and transmitted. And he found these distorted or "dizzy" signals due to a fine-tuning dysfunction of inner-ear and cerebellar origin.
Levinson's dizzy-signal theory of dyslexia can be best understood by a simple clinical reality he termed "transient dyslexia." This is a condition in which normal brain processors are secondarily "confused" by destabilizing inner-ear and related cerebellar dysfunctioning. The latter is readily induced by labyrinthitis or upon spinning normal individuals around till they and their brain signals are dizzy. "They then can't normally read, write, remember, talk, perceive, orient, concentrate, balance and coordinate pending spontaneous recovery or treatment." Similarly, he termed the reported reading reversals experienced by French astronauts in zero gravity "space dyslexia."
The above insights directed Levinson to discover a rapid and highly successful medical treatment. "My clinical studies demonstrated improvements in all the varied reading and non-reading symptoms and triggering mechanisms characterizing 75-85% of dyslexic children and adults responding favorably and often dramatically to inner-ear-improving medications," reported Levinson.
"Because all my concepts were clinically derived from over 35,000 thousand dyslexics rather than based on prior theories, they appear capable of encompassing and explaining 99.9% of all the reading and non-reading symptoms and determining mechanisms characterizing all other reported dyslexics," claimed Levinson. "By contrast, dyslexics with severe reading comprehension problems due to a primary cerebral processing dysfunction do not exist, albeit their disorder does."
Dr. Levinson's cerebellar/dyslexia research has been supported by Noble Laureate Sir John Eccles and other outstanding cerebellar neurophysiologists and inner-ear scientists. Additionally, it has been independently substantiated by a wide range of recent brain imaging and related studies.
By providing a patient-based all-encompassing concept and definition of dyslexia as well as offering new methods of medical screening, diagnosis, treatment and even prevention, Levinson's theory and supporting data appear to best clarify this previously misunderstood disorder while explaining all other hypotheses.
About Harold Levinson, M.D.
Formerly Clinical Associate Professor of Psychiatry at New York University Medical Center, Dr. Harold Levinson is currently Director of the Levinson Medical Center for Learning Disabilities in Long Island, New York. He is a well-known neuropsychiatrist, clinical researcher and author. For more information, call 1(800)334-7323 or
visit: http://dyslexiaonline.com.