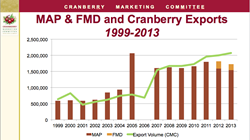 We've seen a direct correlation between increased export activity and increased federal support. ~ Scott J. Soares, Executive Director, CMC
Wareham, Massachusetts (PRWEB) April 29, 2014
The Cranberry Marketing Committee USA (CMC) announced today that it will receive $1,561,170 through the USDA Foreign Agricultural Service (FAS) Market Access Program (MAP) to help increase its oversees export opportunities.
According to FAS, the past five years represent the strongest period for U.S. agricultural exports in the history of the United States. Farm exports in fiscal year 2013 reached a record $140.9 billion and supported 1 million jobs in the United States.
Cranberry Marketing Committee USA (CMC) export reports affirm the positive return on investment related to FAS's international market development programs. "We've seen a direct correlation between increased export activity and increased federal support," said Scott J. Soares, Executive Director, CMC. "This $1.56 million dollar allocation represents a 16% increase over last year and I believe is a reflection of the effectiveness of our international market development activity."
Through cooperative partnerships between U.S. agricultural stakeholders at the federal, state, and local level, the FAS MAP shares the costs of international marketing activities focused on consumer promotion. According to the USDA, through MAP, FAS will provide $171.8 million to over 60 nonprofit agricultural organizations promoting a broad breadth of commodities such as fruits, vegetables, nuts, processed products and other products. Participants contribute an average 171-percent match for generic marketing and promotion activities and a dollar-for-dollar match for promotion of branded products by small businesses and cooperatives.
About the Cranberry Marketing Committee, USA (CMC)
The CMC was established as a Federal Marketing Order in 1962 to ensure a stable, orderly supply of good quality product. Authority for its actions are provided under Chapter IX, Title 7, Code of Federal Regulations, referred to as the Federal Cranberry Marketing Order, which is part of the Agricultural Marketing Agreement Act of 1937, as amended. This Act specifies cranberries as a commodity that may be covered, regulations that may be issued, guidelines for administering the programs, and privileges and limitations granted by Congress. For more information about the CMC, visit http://www.uscranberries.com. Follow at http://www.twitter.com/uscranberries and http://www.facebook/cranbecravers.