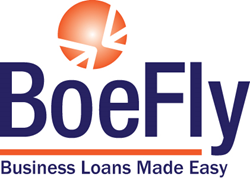 We made several attempts to identify financial institutions that we thought could match our needs and we ended up wasting precious time and effort. Frustrated with the search process we gave BoeFly a try.
Tampa, FL (PRWEB) April 29, 2014
After serving 10 years in the Ohio Army National Guard and getting his MBA, James Payne without a doubt has the extensive leadership and team building skills that it takes to successfully run a franchise. After seeking support from online marketplace BoeFly, Payne has been approved for a business start-up loan to finance the opening of his first Wayback Burgers restaurant, which is slated to open this summer.
Payne knew that it would be critical to find a franchise that he believed in, so he started his search looking for the best premium burger establishments that he could find. After narrowing down the field with his selection criteria, he conducted a taste test and Wayback Burgers could not be beat for taste, freshness or quality.
"After selecting the Wayback Burgers franchise, which met our requirements, we began searching for a financial institution that could meet our financing needs," said Payne. "We made several attempts to identify financial institutions that we thought could match our needs and we ended up wasting precious time and effort. Frustrated with the search process we gave BoeFly a try. Their process was painless and incredibly effective. Instead of searching through dozens of financial institutions that could not meet our needs BoeFly brought interested institutions to us. It really made securing financing pretty easy."
BoeFly, the premier online marketplace connecting small business borrowers with lenders and a strategic ally of the International Franchise Association (IFA) to expand credit access within the franchise community, has partnered with over 150 franchise concepts to help make getting a business loan easier for franchisees.
Payne's loan request received interest from several lenders across the country, and after evaluating the financing options, they chose to work with Atlantic Coast Bank.
Payne learned about BoeFly at the recommendation of Wayback Burgers, which is among more than 150 franchise brands that have selected BoeFly to assist their franchisees with financing support.
"Providing our franchisees with a tool to make the process of getting a loan more efficient is important as Wayback Burger continues to grow. The less time a business owner has to worry about looking for financing, the more time they have to spend on starting up or expanding their restaurants," said John Eucalitto, President of Wayback Burgers. "We're glad BoeFly has been an invaluable service for helping many of our franchisees connect with the right lenders for their financing needs."
BoeFly Co-president Mike Rozman views this success story as an uplifting solution to widespread frustration that business owners find when they are looking for a business loan.
"The process of going bank to bank to look for financing is antiquated and inefficient. A story like James Payne's is not unusual and it is always encouraging to see small business owners, franchisors and lenders taking advantage of more efficient solutions to seek financing in today's tight small business loan market," said Rozman. "BoeFly has helped James Payne, as well as many small business owners efficiently secure financing to start up or grow their businesses, and we look forward to continuing to work with reputable franchisors like Wayback Burgers and lenders such as Atlantic Coast Bank to help drive small business growth and create new jobs."
About BoeFly
BoeFly makes it easier to obtain small business loans by reducing the time, cost, complexity, inefficiency and frustration associated with small business lending. Its online proprietary matching technology connects small business borrowers with multiple lenders from among its more than 3,600 participating banks, based on the lending profiles provided by the banks and the information provided in the borrower's loan request.
Before seeking a loan business borrowers can find out their fundability and may get prequalified for a business loan through bQual™. The bQual™ report will deliver a business borrower's FICO SBSS Small Business Credit Score (used by lenders nationwide and required for SBA loans), a personal consumer credit score and credit bureau report, and a detailed financing assessment of a borrowers fundability.
Integrating the bQual™ scores into the loan seeking process on BoeFly, borrowers can connect with multiple lenders quickly and easily, providing a greater probability of obtaining a loan, as well as more favorable loan terms resulting from the creation of a competitive marketplace. Lenders benefit by being presented with those loan requests that fit their lending profile, dramatically lowering their cost and time of origination. BoeFly is not a broker. Borrowers pay a small one-time fee and lenders pay an ongoing subscription fee.
BoeFly, now a strategic ally of the International Franchise Association to expand credit access within the franchise community, offers a Franchise Solution bringing these benefits to the large and growing small business franchisee community and is the choice of more than 125 brands, including Dunkin' Donuts, Carl's Jr., and Kiddie Academy, among many others.
BoeFly was founded by small business owners and small business lending experts with extensive small business lending experience. The company is privately-held and is based in New York City. http://www.boefly.com.
About Wayback Burgers
Wayback Burgers is a Connecticut-based fast-casual franchise with a reputation for serving fresh burgers and thick, hand-dipped milkshakes. Founded in 1991 in Newark, DE, Jake's Wayback Burgers currently operates in 23 states with over 80 locations nationally and plans to open in 28 countries through the Middle East and Northern Africa, in addition to expansion plans in Argentina.