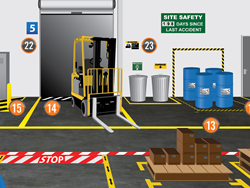 Industrial real estate is expensive and it's got to be correctly used for the best ROI...
Portland, OR (PRWEB) April 29, 2014
Graphic Products has added a free Placement and Color Guide to Floor Marking infographic to its growing portfolio of visual communication resources. Created by graphic designer Joe Hanson, this colorful infographic provides a comprehensive rendering of the warehouse/distribution center environment and the functions floor marking tape plays in safety, efficiency, and customer service – all of which support profitable operations. Just click on the link above to view the infographic or embed it into your website.
Hanson has created an ideal environment for floor marking and labeling applications in great detail and perspective, using both lighting and texture for a lifelike, emotive quality.
"Industrial real estate is expensive and it's got to be correctly used for the best ROI, so when a pallet is stacked too high, or a lane is too narrow, or waste winds up in an unintended place, then time and resources are misused," said Steve Stephenson, Graphic Products. "In the best warehouses, there's a place for everything, and everything has its place. Nothing is random. This guide was designed to help warehouse and distribution center managers optimize their space for efficiency."
Organizing warehouse space with floor marking tape is also cost-effective when compared to paint, stanchions, or barriers. Floor marking tape, which is not limited to floors, is rugged and is available in multiple colors, shapes, textures, and adhesion strengths.
Though OSHA does not regulate floor marking colors, here are some suggested guidelines:

Purple for finished goods
Green for safety areas
Blue for parts organization
White for work areas.
Yellow to designate traffic areas
Black/yellow stripes for hazardous and electrical areas
Red for scrap material areas
Glow-in-the-dark tape to illuminate exits and entrances
Floor marking tape can also be used to designate pallet areas. Bar coding them to indicate stock type will add an additional level of organization and efficiency. Another safety application is designating a safe zone around conveyors or equipment with moving parts. Floor marking signs are essential for warehouses with forklift traffic and pedestrians.
Other infographics from Graphic Products include:
The 6S system, a continuous improvement process that includes sort, set in order, shine, standardize, sustain, and safety
Arc Flash boundaries
OSHA workplace safety
Fire safety history
Graphic Products carries a full family of labeling systems for every application, free technical support, and a five-year warranty on labels made with premium vinyl. Satisfied customers throughout the world include P&G, Amazon.com, Georgia-Pacific, Boeing, John Deere, Conoco, Sara Lee, Toyota and General Electric. Graphic Products is The Global Leader in Workplace Labeling & Signage. For more information, visit http://www.GraphicProducts.com