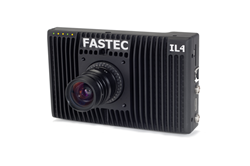 ...the slim IL4... is a complete long-record, high-speed video system small enough to fit in a modest briefcase with plenty of room left over...
San Diego, CA (PRWEB) April 29, 2014
Fastec Imaging is pleased to announce the release of the IL4 dual-mode high-speed camera. A new sibling to the highly-successful handheld TS4, the IL4 boasts the same ability to act as a traditional high-speed camera (SR mode), recording seconds of action to an internal frame buffer at very high speeds, as well as a recording for much longer intervals (LR mode) while streaming video to a built-in Solid State Drive (SSD). Additionally, the IL4's standard HDMI output may be used for live monitoring or recording at HD resolutions to a DVR at normal video speeds, or slow-motion playback.
Perfect for manufacturing line and laboratory applications, the slim IL4 paired with a small laptop or tablet, or even a smartphone for setup, is a complete long-record, high-speed video system small enough to fit in a modest briefcase with plenty of room left over. Matt Kearney, VP of Sales for Fastec explains, "We at Fastec have been consistent in our goal of making high-speed imaging more accessible. The IL4 is a long-recording system capable of excellent imagery at high speeds that does not have to be rolled into place on a cart and it won't break the bank. In terms of cost, size, and ease of use, we are very confident that the IL4 will fit many manufacturing and laboratory needs that are presently under served."
Features Include:

Full resolution 1280x1024 imaging at 510fps in SR mode, 365fps in LR mode.
Frame rates greater than 60,000fps at reduced resolutions in SR mode, 6,000fps in LR mode.
720p HD video recording at 725fps for 13 seconds in SR mode, 500fps for 15 minutes in LR mode.
VGA video recording at 1950fps for 14 seconds in SR mode, 1500fps for 15 minutes in LR mode.
Gigabit Ethernet Control – with FasMotion software on PC, MAC, and Linux computers.
Remote Camera Control – with any wired or wireless network device capable of running a web browser, such as a smartphone, tablet, or computer.
Six Data Input Channels – with graphical display in FasMotion software and ability to create searchable markers with a user-defined logical filter.
Full HD 1080p/60, 720p/60, or VGA resolution HDMI video output.
C-mount, Nikon F-mount, and PL lens mounts available.
Robust and flexible Camera Synchronization.
Fastec Imaging is a global manufacturer of digital high-speed imaging systems based in San Diego, CA. The company specializes in uniquely portable and affordable high-speed camera systems, including handheld, point-and-shoot systems, compact PC-controlled cameras, and long duration record systems. Fastec cameras are used in many applications, including engineering, industrial manufacturing, packaging, medical and academic research, bio mechanics, military range testing, sports performance, and broadcast entertainment. For additional information regarding Fastec Imaging, please visit http://www.fastecimaging.com.