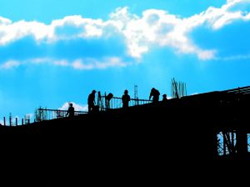 Data from the U.S. Bureau of Labor Statistics (BLS) indicates that 4,383 workers were killed on the job in 2012. Out of the 3,945 worker fatalities in private industry in 2012, 775 or 19.6 percent were in construction
New York, N.Y (PRWEB) April 30, 2014
The New York City Department of Buildings has issued a stop-work order at a Manhattan construction site where a 34-year-old worker fell 13 stories to his death. An April 16 ABC News report states that the man was found with fatal injuries on a scaffold at 424 West 33rd Street between Ninth and Tenth avenues in Midtown the afternoon of April 14. The report states that the worker was standing on a ledge between the roof and penthouse level when he fell.
The Department of Buildings issued multiple violations including failure to safeguard persons or property, report an accident, failure to maintain daily inspection records of the scaffold, to provide or conform to approved plans and to provide fall protection devices such as harnesses and guardrails to workers, ABC reports. In all, there are 41 open violations at the location, the article states.
Data from the U.S. Bureau of Labor Statistics (BLS) indicates that 4,383 workers were killed on the job in 2012. Out of the 3,945 worker fatalities in private industry in 2012, 775 or 19.6 percent were in construction, statistics show. The leading causes of worker deaths at construction sites were falls. According to the BLS statistics, 278 out of 775 deaths in the construction industry in 2012, accounting for 36 percent of the total number of deaths, were attributed to falls.
Given the vulnerability of construction workers to fall-related accidents, it is absolutely essential for them to be provided with fall safety devices, says New York construction accident lawyer Kenneth A. Wilhelm. "It is tragic when we think about how preventable these types of accidents are. A restraint, safety net or even a guardrail can go a long way when it comes to saving the lives of construction workers."
Federal standards and regulations spelled out by the U.S. Occupational Safety and Health Administration (OSHA) are there to ensure that workers are protected on sites that are inherently dangerous. "Construction workers are at most risk for injury and death because their jobs typically require them to work at high elevations. They also work with heavy equipment and power tools that have the potential to cause other serious injuries."
It is crucial for construction workers and their families to have the resources they need during these difficult times, Wilhelm says. "Workers and their families go through significant emotional and financial turmoil after a major accident. It is important that they obtain the support and advice that ensures their rights and best interests are protected."
About the Law Offices of Kenneth A. Wilhelm
The Law Offices of Kenneth A. Wilhelm is a personal injury litigation firm with an unwavering dedication to its clients. With more than 42 years of experience, our firm strives to obtain the best compensation for those who have been injured or those who have lost a loved one due to an accident or by someone else's negligence. We handle cases dealing with personal injury, medical malpractice, wrongful death, train accidents, workers' compensation, dental malpractice, motor vehicle accidents, pedestrian accidents, rape, paralysis, comas, seizures, false arrest, lead poisoning, trips and slips and falls, falls on sidewalks or stairs, elevator accidents, construction accidents, building collapses and explosions, Erb's palsy, cerebral palsy, brain damage, blindness, hearing loss, dog bite cases, fire and smoke inhalation accidents, bicycle accidents, falls from windows or scaffolds, food poisoning injuries, carbon monoxide accidents, and many other types of accidents and injuries.
Please contact our New York personal injury attorneys TOLL FREE 24 hours a day, 7 days a week at 1-800-WORK-4-YOU (1-800-967-5496). WE CAN EVEN COME TO YOU. There is no attorneys' fee unless we recover money for you. We can also help with personal injury cases in New Jersey, Connecticut, Pennsylvania, or Florida. If you have been seriously injured in any of the 50 U.S. states, please call us and we will try to help you with your case.
Other TOLL FREE phone numbers for us are:
1-800-RADIO-LAW, 1-888-WYPADEK, OR 1-800-LAS-LEYES
The Law Offices of Kenneth A. Wilhelm
445 Park Ave, 9th Floor
New York, NY 10022
(212) 545-7373
Please visit us at: http://www.WORK4YOULAW.com