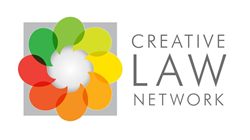 Our clients are individuals and businesses who consider their work 'creative' in some way
Denver, CO (PRWEB) April 29, 2014
Creative Law Network LLC Principal Dave Ratner, along with two other successful attorneys, recently spoke to the University of Denver College of Law Business Law Society students about starting their own law firms.
The panel included Ratner, Attorney Tom Walsh of Walsh IP Law and Attorney John Zakhem of Zakhem Law.
The event, presented by the Business Law Society at the University of Denver College of Law, included a panel discussion as well as a question and answer session with the student attendees.
"It was a pure pleasure to provide insight on what it takes and the steps involved in starting a law firm," Ratner said. "The students asked interesting and intelligent questions. The job market for law graduates is changing and the University of Denver College of Law is trying to help its students adapt," he added.
Ratner, an attorney and former music business professional, said the audience members learned from the experiences of all three panelists.
"We shared our perspectives, opinions, stories, and advice," Ratner said. "Starting your own law firm can be challenging and can also be rewarding. Some of the most important assets you can have are the help and experience of other attorneys."
Creative Law Network provides transactional (non-litigation) legal services to the creative and business communities, focusing on entertainment (creativelawnetwork.com/law-for-the-creative-arts/), intellectual property and small business law.
"Our clients are individuals and businesses who consider their work 'creative' in some way," Ratner explained. "Many of our clients are small business owners and Creative Law Network understands the particular issues facing small businesses."
For more information, please visit: http://www.creativelawnetwork.com/services.
About Creative Law Network LLC
Creative Law Network is a different kind of law firm.
Our firm is grounded in a sincere passion for helping creative individuals and businesses navigate the complex world of contracts, negotiations, and business law.
We know these challenges well because we faced them ourselves and we use that experience to help our clients achieve and succeed.
Contact Details:
Creative Law Network LLC
2036 East 17th Avenue
Denver, CO 80206
Phone: 720.924.6529
Email: info(at)creativelawnetwork.com
Web: http://www.creativelawnetwork.com
Source: Creative Law Network LLC
###