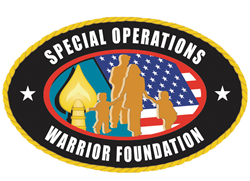 Tampa, FL (PRWEB) May 02, 2014
The Special Operations Warrior Foundation, one of the nation's highest-rated charities, is participating in Give Day Tampa Bay, the first fundraising effort of its kind in this region.
Give Day Tampa Bay is an offshoot of the nationwide Give Local America initiative, now in its sixth year.
The Community Foundation of Tampa Bay is hosting Give Day Tampa Bay in partnership with the Florida Next Foundation. The goal: to encourage and inspire donors to support charities in their own backyards.
The Warrior Foundation will receive 94 cents for each dollar donated to it through Give Day Tampa Bay.
Supporters can generate additional funds for the SOWF through contests that will kick off beginning at midnight and run throughout the donation period, which ends at 11:59 p.m., on May 6. Categories include the most money raised during your lunch break, and how much money is raised during the sunset.
Since 1980, the Special Operations Warrior Foundation has helped ensure the children of fallen U.S. Special Operations Forces personnel of the Army, Navy, Air Force and Marine Corps receive a post-secondary education. The SOWF has paid for college for 235 graduates, and currently has 129 students attending colleges across the U.S.