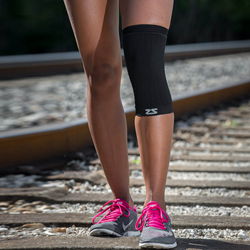 The new Zensah Knee Sleeve provides pin-point compression and support to the knee
Miami, FL (PRWEB) April 29, 2014
According to Runners World, almost 40% of running injuries are knee related. Zensah®, the Miami based compression brand, released a new Compression Knee Sleeve, designed to prevent and provide relief from knee pain and discomfort.
Runner's Knee, also known as patella femoral pain syndrome (PFPS), is one of the most common injuries that runners experience. Runner's Knee is caused by irritation of cartilage on the underside of the patella. Symptoms can include pain behind and around the kneecap, pain when bending knees, pain when walking, and swelling in the knee area.
Although a common injury among runners, knee injuries can also affect all athletes who enjoy activities such as walking, biking, jumping, high intensity interval training, tennis, and golf. Direct trauma to the knee and overuse are two of the common causes of knee injuries.
The new Zensah Knee Sleeve provides pin-point compression and support to the knee. A key feature is the silicone gripper, which prevents the sleeve from slipping during all activities. The moisture wicking and antimicrobial fabric ensures the sleeve and athlete stays dry and stink free.
Common treatments for knee injuries like runner's knee include rest, ice, compression, and elevation. It is also important to strengthen and stretch. Unfortunately, some knee injuries require the use of a brace. A great bonus of the Zensah Knee Sleeve is that the lightweight design allows it to fit perfectly under hard knee braces to prevent chafing and provide added comfort. Made in the USA, the Zensah Knee Sleeve is available now online and in specialty retailers across the country.
About Zensah: Zensah® is a Miami-based company, specializing in sports compression apparel. Their seamless compression socks, compression sleeves, full product line are praised by athletes and fitness enthusiasts, including runners, cyclists, triathletes, yoga enthusiasts, basketball players, golfers, and soccer players. Zensah® offers compression products for performance and recovery. According to Leisure Trends Group Specialty Running RetailTRAK™, Zensah® is the number one selling Compression Leg Sleeves in the USA for Running Specialty.
Parker Robinson
marketing(at)zensah(dot)com
ZENSAH® COMPRESSION APPAREL
(305) 935-4619