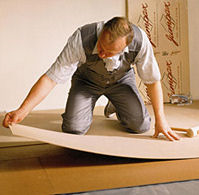 Sound Seal's Jumpax was a nice product to work with. The ease of installation produces a flat, smooth surface to install the finish flooring
Agawam, MA (PRWEB) April 30, 2014
Sound Seal, a leading manufacturer of commercial and architectural acoustic noise control products announced that Marine Corps Base Camp Lejeune in Jacksonville, NC has installed the Jumpax Acoustic Underlayment System within the new military barracks. 95,000 sq. ft. of Jumpax acoustical underlayment, a sound reducing, free floating, dry leveling, fast track floor preparation system was installed to reduce the transfer of structure-borne noise from one floor to another in the new military housing for service members and their families.
The project which began in February of 2013 was recently completed this April. Steve Lydic the installer on the project, of Century Floor Coverings based in Peoria, AZ, said "Sound Seal's Jumpax was a nice product to work with. The ease of installation produces a flat, smooth surface to install the finish flooring."
Since September 1941, Camp Lejeune has been the home of Marine Expeditionary Forces in Readiness. The largest Marine Corps Base on the East Coast, Camp Lejeune's mission is to maintain combat-ready units for expeditionary deployment.
About Sound Seal
Sound Seal Inc. is a leading manufacturer of commercial and architectural acoustic noise control products offering the widest product selection in the soundproofing industry with innovative solutions and outstanding customer service. Sound Seal consists of three product divisions: the Industrial Division which deals with outdoor, HVAC and in-plant noise control , the Architectural Division which handles interiors and the Impacta Flooring Division which deals with floor underlayments. For more information visit http://www.soundseal.com and http://www.jumpax.net