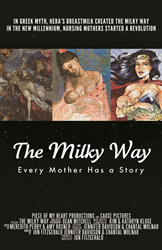 "We have seen a major influence by the infant formula industry who push their products to make millions at the expense of the physical and psychological health of moms and babies
San Francisco, California (PRWEB) April 29, 2014
My Brest Friend announces their partnership with the Milky Way Foundation and is set to sponsor the release of their new breastfeeding documentary, The Milky Way.
In partnership with the new documentary feature, My Brest Friend will sponsor the upcoming theatrical release over Mother's Day Weekend (May 8-11), presented by Tugg and CineCause.
The full length documentary is an exposé about breastfeeding in the United States. It takes a closer look at both the social and personal challenges breastfeeding moms face and aims to usher in a new era of confident breastfeeding women in America by breaking down cultural and political barriers.
My Brest Friend's CEO, Andrew Zenoff, knows first-hand of the challenges and frustration nursing women face and created an innovative breastfeeding pillow designed to help them succeed.
Zenoff's My Brest Friend nursing pillow is trusted as the number one choice for lactation consultants and millions of nursing moms nationwide.
"My Brest Friend is supporting The Release of The Milky Way film with a shared mission to give every mother the education and every mom and baby a chance to succeed at breastfeeding," said Zenoff.
The documentary also plans to spotlight the significant adverse impact on breastfeeding rates caused by the infant formula industry due to their strategic marketing, direct advertising and blatant endorsements of healthcare providers.
"We have seen a major influence by the infant formula industry who push their products to make millions at the expense of the physical and psychological health of moms and babies," said Zenoff.
"Their greed has demonstrated a social injustice to the needs of mothers and their babies," said Zenoff.
Zenoff added that the documentary will empower women to want to exclusively breastfeed again.
With their missions aligned, both organizations will work together to maximize the awareness of the film, leveraging the power of film to create a positive change for mothers across the nation.
In addition to joint promotional efforts for the film's release and awareness of My Brest Friend's tremendous product offerings, the companies will combine forces on a number of future initiatives.
Some of these initiatives will include the expansion of baby friendly businesses and hospital care, the implementation of adequate maternity leave for families and awareness of the most useful breastfeeding support products.
They are also working together to change federal legislation, which would require employers to offer 6 months maternity leave, instead of the current 3 months, allowing moms and babies to adequately receive both the psychological and medical benefits of breastfeeding.
In addition, they are urging for insurance agencies to cover the expense of the My Brest Friend nursing pillow to ensure every mom receives one at the hospital.
Both Zenoff and the Milky Way Foundation will attest that breastfeeding provides economic benefits for the government, healthcare providers and insurance agencies as breastfed babies are more likely to have stronger immune systems which will lead to less doctor visits over time.
"It is imperative that nursing moms are provided with the tools, time and confidence to succeed in breastfeeding," said Zenoff. "The benefits of breastfeeding are so important and there is a dire need for our American culture to fully understand and support this."
###
About:
My Brest Friend
At My Brest Friend is dedicated to providing the highest quality and most useful breastfeeding support products for moms and babies all over the world. Our mission is to support moms being able to give their full attention, optimum health and love to their babies. We strive to be the very best across all aspects of our business.
The Milky Way Foundation
The Milky Way Foundation is working to restore the phenomenon of the nursing mother by normalizing nursing, and providing tools for each woman to trust her body, trust her baby, and trust herself during her journey through motherhood. Anchored by their feature documentary film, The Milky Way, the Foundation will support several breastfeeding campaigns, including: Breastfeeding Art Exhibitions,
The Baby-Friendly NICU Project, Maternity Leave Programs and The Business Case for Breastfeeding.