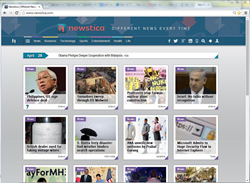 Ottawa, Ontario (PRWEB) April 30, 2014
Newstica.com, a new website designed to put a vibrant spin on the traditional (and tiresome) approach to news, is on a mission to help people become better informed and more engaged with their world in less time. The site pulls news stories from hundreds of sources around the world, ensuring diverse, new, and unexpected content all the time.
Freshness is one of the hallmarks of Newstica: the developers guarantee that users will never see repeated stories. Indeed, the site is the first to make this bold claim, and users can put it to the test by clicking the "Newstica" button, which automatically loads a selection of entirely new stories. "Different News Every Time" is more than a tagline—it's how Newstica operates.
The Newstica Mission is to increase news readership, especially among young folks. Instead of walls of text, the site presents picture panels with headlines. Adding to that sense of fun, registered users can participate in news-related trivia challenges. Registered users can also share and archive stories, block keywords, and search a vast catalog of news items.
Organizations, schools, businesses, and non-profits can even purchase their own customized versions of Newstica, displaying relevant news content to their specific audiences.
Newstica.com is available internationally including Canada, USA, UK, India, New Zealand and Australia.
Mobile app versions of Newstica for every major platform are slated for release in early July.
About Newstica
About Newstica.com: Based in Ottawa, Canada, the Newstica website is owned by Jesu Consulting Inc. The Newstica team is dedicated to keeping its users informed with new content every time they view the site. Newstica's innovative, fresh approach to sharing news means that visitor's never have to read the same news twice.
Contact:
Jesu Consulting Inc.
38 Auriga Drive, Suite 223
Ottawa, Ontario
Canada K2E 8A5
1-613-853-6851
contact(at)newstica(dot)com