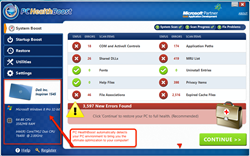 'Our old design was already very successful and popular with users,' says Joel Jenkins, Senior Designer at Boost Software, 'but we wanted to design a new standard for all Boost applications.'
Boston, MA (PRWEB) April 28, 2014
One of the best-selling PC optimization programs on the Internet just upped the ante against its competition. Boston-based software developers Boost Software recently upgraded the dashboard on their flagship product, PC HealthBoost™. The upgrade includes a re-designed user interface as well as auto-detection capabilities.
"Our old design was already very successful and popular with users," says Joel Jenkins, Senior Designer at Boost Software, "but we wanted to design a new standard for all Boost applications. We went over the application step by step to make sure it will be as easy to use as possible."
These changes include a larger frame, more uniform buttons, new colors, new icons, and new features.
"With PC HealthBoost, you get more than just an improved aesthetic design. You get greater usability, increased functionality, and an overall improved user experience."
PC HealthBoost has developed a reputation among users and merchants as an application with enjoyable user experience. The software's refund rate hovers between 3-4%, which is just under half the industry standard rate of about 10%.
While the program's designers and developers like to attribute that lowered rate to an exceptional user interface and functionality, Boost PR Director Erin Walsh thinks there's more to the story.
"It definitely helps our refund rate that PC HealthBoost is a cut above other PC optimization products," says Walsh. "But 24/7 phone and Web support help, too. All of our support technicians are Microsoft-certified, native English speakers. That kind of support perfectly complements our software's ever-improving premium build."
PC HealthBoost parent company Boost Software™ formed by the online sales team of Peter Dunbar and Amit Mehta, who had grown tired of the lack of support and robust build among other PC optimization programs.
The two sank over two years and $500,000 into developing improved registry cleaner/PC optimization software for the online market. They also offer extensive training, ad creative, and other affiliate resources at http://BoostAffiliates.com.