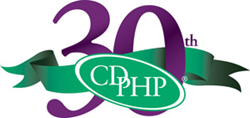 Albany, NY (PRWEB) April 30, 2014
From "Footloose" to "Family Ties," stonewash jeans to Transformers, 1984 was an iconic year for American pop culture. At the same time Apple was releasing the first Macintosh computer (which cost $2,495), a not-for-profit health plan was being formed in Albany, N.Y.
Today CDPHP is celebrating 30 years as a physician-founded, community-based health plan. From our humble beginnings of hand-processed claims on Allen Street in Albany, CDPHP has evolved into an award-winning health plan serving more than 450,000 members in 24 counties in upstate New York.
"What has made this company so great over the years is that we never lost sight of the framework which we were built upon," said Dr. John D. Bennett, president and CEO, CDPHP. "In 1984, a group of local physicians came together with a common goal of delivering high-quality, affordable health care. Thirty years later, that is still our mission, and we work day-in and day-out to achieve that goal," added Bennett.
Fun Facts from 1984
We asked CDPHP employees who have been with us the longest to recall fun facts about CDPHP 30 years ago. Here is what they said:

Claims were processed entirely by hand.
Employees signed up for timeslots to use the word processor; otherwise, they had typewriters.
The mailroom was in a cubicle with a small scale to weigh the mail.
The cafeteria was an outside picnic table.
We enjoyed a small but lively holiday party.
The company had a great family feel that is still a part of our culture today.
Today, CDPHP has more than 1,100 employees and was once again named one of the Best Companies to Work for in New York by the New York State Society for Human Resource Management.
CDPHP health plans are routinely ranked #1 in New York State by the National Committee for Quality Assurance (NCQA) 2013-2014 Health Insurance Rankings:

CDPHP Commercial Products ranked #1 in New York state: Private CDPHN (PPO): #1 in New York state (#26 nationally)
CDPHP UBI (PPO): #1 in New York state (#26 nationally)
CDPHN (HMO/POS): #1 in New York state (#18 nationally)
CDPHP (HMO): #1 in New York state (#19 nationally)
CDPHP Select Plan (Medicaid) ranked #1 in New York state (#9 nationally)
CDPHP Medicare Choices HMO ranked #1 in New York state (#9 nationally)
For more information on the 30th anniversary at CDPHP, please contact Ali Skinner at (518) 605-4497 or askinner(at)cdphp(dot)com.
About CDPHP®
Established in 1984, CDPHP is a physician-founded, member-focused and community-based not-for-profit health plan that offers high-quality affordable health insurance plans to members in 24 counties throughout New York. CDPHP is also on Facebook, Twitter, LinkedIn and Pinterest.