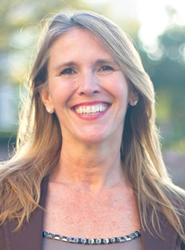 The future for UCSD MBA students is clearly bright!
San Diego, CA (PRWEB) April 29, 2014
Everyone Counts CEO Lori Steele Contorer engaged MBA students at Rady School of Management, UC San Diego in a talk over dinner on Friday, April 25 at the Del Mar Marriott.
The topic was "The Journey - Bringing a First in Class Product to the Market", in which Ms. Steele Contorer detailed the path of translating an idea into a viable market opportunity.
"Having an entrepreneurial minded leader like Ms. Steele Contorer share the story of building Everyone Counts from an idea into a successful company provides our students with the practical and experiential knowledge that is a valuable part of their MBA education," said Delbert Foit, Lecturer at Rady School of Management.
The talk was a kick-off for Lab to Market, the signature course series of the Rady MBA program, where students obtain the competencies to identify and transform science and technology based innovation into viable ventures that capture profitable market opportunities.
"It's inspiring to interact with our future entrepreneurs and business leaders," said Lori Steele Contorer. "The students were insightful, creative and intelligent in their thinking about entrepreneurialism. They appreciate candid real-life stories of the ups and downs of building a company, so it was a pleasure to share the story of building Everyone Counts from an idea to the industry leader in the transformation of the $31 billion elections industry. The future for UCSD MBA students is clearly bright!"
For more information on Rady School of Management, visit http://rady.ucsd.edu/
###
About Everyone Counts:
Everyone Counts is disrupting the $31 billion elections industry and migrating government and private-sector elections worldwide to its Software as a Service (SaaS) model. The company provided election services to nearly 100 election jurisdictions across the US in the 2012 Presidential election, pioneered the first use of iPads for voting in the State of Oregon in 2011 and 2012, and provided the largest ever online voting to-date in a government election, in the State of New South Wales, Australia in 2011. Bosnia-Herzegovina provided Everyone Counts' voting systems to citizens with disabilities in a Pilot election, so that they could vote privately and independently for the first time. 2013 saw Everyone Counts taking stewardship of the State of New Jersey's Voter Registration System, as well as providing online voting for the iconic Academy Awards, which resulted in their highest voter participation ever. In 2014, Everyone Counts will transition the Emmy Awards to online voting, as well as work with South Dakota and Arizona to improve voting for Military Overseas voters.