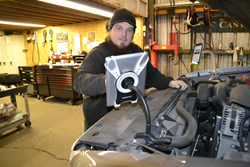 "The goal was to compliment and expand the versatility of the tablet rather than limit it. It is a tool, not a toy."
Boulder, CO (PRWEB) April 30, 2014
After introducing the Sqweezel, a new universal tablet holder/stand, at the International Hardware Show in Cologne last month, Nielsen Products, LLC would like to announce its participation at the National Hardware Show in Las Vegas May 6-8, 2014 - Booth Nr. 8158.
At the International Hardware Show in Cologne, the Sqweezel surprised visitors and exhibitors alike by being an innovative tool to use with your tablet PC in a wide variety of settings. Markets varying from automotive, mechanical, hospital, manufacturing, and warehousing were impressed by the quick, flexible and durable applications the Sqweezel- Tablet Holder offered their businesses. "The hardware industry has been needing something sturdy and flexible like this to secure their tablets ever since the first tablets were released. This will truly be a game-changer," said one of the booth visitors. Not purely limited to the Hardware and DIY market the Sqweezel tablet holder has also had success in markets ranging from kitchen and furniture supplies, home fitness equipment, educational supplies and further markets needing a quick and easy way to attach tablet PCs.
The SQWEEZEL Universal Tablet Holder and Mount is a flexible and reliable hands free tool to keep your tablet safe and secure. The quick connect/disconnect holder of the SQWEEZEL will work with any tablet, with or without a case or cover. The large clamp, flexible arm, and quick release rotating attachment point allows for tablet use in a wide variety of settings. A surface mount model is also available for use on workbenches, counters, desks, and walls. The Sqweezel tablet holder is able to accommodate any tablet between 6"-12", including the Kindle E-reader, iPad mini, iPad (Gen. 1,2,3, Air), Samsung Galaxy, Google Nexus, Sony Xperia, Windows Surface and many more.
During market research, company president and product designer, Corey Nielsen, found that the majority of the existing tablet specific products did not offer quick-connect and disconnect holders and were cumbersome to use. The Sqweezel achieved the development goal of securing any tablet computer, while also being robust. "The goal was to compliment and expand the versatility of the tablet rather than limit it. It is a tool, not a toy," stated Nielsen. Co-designer and project manager/engineer, John Arendt, stated, "We developed a product to meet an unfulfilled need in the product category. We developed a universal tablet computer holder, which is in fact, universal and convenient to use at the same time". Recent survey results have shown that the Sqweezel exceeds industry standards
Nielsen Products, LLC - Focuses on simple solutions to make life easier with convenient tools for both business and households. In addition to the Sqweezel, Nielsen Products, LLC is also the manufacturer and distributor of the ShoulderDolly; a two-person carrying strap system for lifting heavy, bulky objects. On the market since 2008, the ShoulderDolly has seen progressive growth in the hardware industry as well as crossover into moving, storage, and material handling.