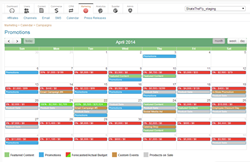 The new reports and the advanced Campaigns calendar enable our clients to make critical business decisions based on a better understanding of trends, allowing them to forecast future activities with greater precision.
Atlanta, GA (PRWEB) April 29, 2014
Today, SaaS commerce provider, ShopVisible, announces its latest quarterly release. A few highlights of this release include the availability of an innovative Campaigns calendar, which allows ShopVisible platform customers to track activities such as merchandising, promotions, featured content, custom events and products on sale in one place so that they can easily track whether how they are performing compared to budget. The release also includes five new reports that provides ShopVisible customers with additional insights into their eCommerce activities. New reports include a monthly order comparison report, daily trends with stylized charts, shipping latency, a new keyword-focused SEO report, and cross-sell performance. This spring technology update is designed to help ShopVisible clients attract greater visibility, boost conversions, drive customer loyalty and effectively analyze data for increased optimization.
ShopVisible's Campaigns Calendar gives clients the ability to plan and manage all of their campaigns in real-time. They can see an aggregated monthly, weekly, or daily view of their featured content, custom events, promotions and products on sale regardless of whether those activities occurred online or not. The functionality also allows users to pre-schedule sales on products by dollar amount or percentage discounts, as well as forecasting sales revenue per day based on previous comparisons. Knowing what events and activities affected sales positively or negatively is critical. ShopVisible's product development team has also enhanced or added new integrations within the platform with CCH, Fiserv, PayPal's BillMeLater, Wish.com and Bronto.
In addition to the Campaigns Calendar, ShopVisible's latest reports improve visibility, such as time from order to ship and what keywords are driving conversion, allowing their customers to make tactical decisions and alter their current strategies based on data presented in a user-friendly format.

The monthly comparison report allows users to effectively strategize about products and pricing based on order comparisons by price, quantity, time ordered and several additional sub-categories.
The daily trends function, with new visual enhancements, now lets users read and understand graphs easier than before, illustrating customer behavior on a day-to-day basis.
The latest SEO report now allows users to see keywords and terms searched by customers on external search engines, providing clients valuable insight on their own digital content.
The shipping latency report gives clients the ability to improve shipping fulfillment operations with a presentation of items' ordered times from processing to shipment.
The new cross-sell performance report displays information regarding revenues generated from products sold together.
"This latest technology release ensures that our clients are getting deeper insights into their own data so that they can make more informed decisions," said Josh Lloyd, chief technology officer of ShopVisible. "The new reports and the advanced Campaigns calendar enable our clients to make critical business decisions based on a better understanding of trends, allowing them to forecast future activities with greater precision. We're very excited to be one of the first eCommerce providers to deliver this type of user-friendly planning and reporting functionality - freeing up resources and providing real-time value to our customers."
Click here to request a demo of the ShopVisible platform, including these new technology updates.
About ShopVisible
ShopVisible is an end-to-end SaaS commerce platform that powers the shopping experiences of today. Whether your customer is an individual consumer or a business, we power the commerce sites that enable them to buy from you. Reach your customers online, on their mobile devices or through popular channels like Amazon and eBay. ShopVisible also enables your back office management including orders, inventory, channel, content management and more. With our APIs, the ShopVisible commerce platform is extensible and easily integrates to 3rd party systems such as fulfillment, ERP, PIM, and other platforms that are core to your business. ShopVisible helps brands and businesses to attract and retain the new connected customer and is the chosen platform for companies like 3M, London Fog, Tempur-Pedic, Office Depot Canada, Plow & Hearth and MovieMars. Learn more at ShopVisible.com and by following @ShopVisible.