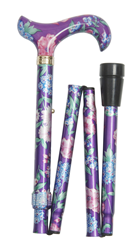 Where Fashion Meets Function
Orlando, FL (PRWEB) April 29, 2014
Walking-Canes.Net has the new 2014 Spring Collection of Folding Walking Canes for men and ladies. This year's styles are bright and fashionable for the ladies while the men's are elegant and distinctive. The collection this year comes from the suppliers in Europe.
Folding Canes make a wonderful item for traveling. Many users have one for the suitcase and one for the glove box. The canes fold up and are made of lightweight aluminum and are strong. Many of the folding canes come in different types of handles. Derby handles, fritz handles, petite handles, and crook style make up the majority of the types of handles that work well with fold ups.
The size of the cane folded is normally around 12 inches. Many come in four sections and some come in five sections when folded. Wallet cases are a wonderful item to add to any of the styles because it helps protect the cane when in the purse or in the suitcase.
The time is right to purchase a new folding walking cane for the spring and summer. Many of the styles in stock are on a limited supply so choose early. The choice of color and design is wide open. The most popular for the ladies is the floral type design or diamond design and for the men the solid colors are always in. The men like the fish, deer, dog or a nautical design on the cane. Father's Day is coming soon.
Customer service is always available to help you in selecting the correct style and color. Try several and that way the color of choice for the day can always be matched with a walking cane. The toll free number is 1-888-928-1774 for a helpful live person to assist in the selection.