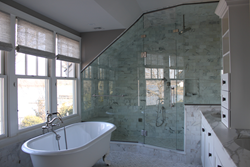 Matawan, NJ (PRWEB) April 29, 2014
Officials from SCB, Stone Creek Builders, announced on April 28, 2014 the impending completion of renovations to a Fair Haven home, after roughly six months of pouring love and care into the project.
The project to improve the Fair Haven home was described by an SCB representative as a labor of love, one in which the group upgraded everything from the home's kitchen and bathrooms to its plumbing and lighting fixtures.
Through careful planning and skillful execution, SCB completely renovated the home's kitchen. Upgrades to the area included white and black cabinets, stainless steel commercial appliances and mosaic tile by "New Revenna" to add a whimsical touch to the commercial feel.
The group also renovated the bathrooms in the home. The master bath was reworked with all white marble, a claw-foot soaking tub, marble steam shower fitted with custom shower doors, hand-held shower head and a rain-shower head.
The SCB group reworked the other bathroom with all-white, subway tile. Half a bath was decked out with a new toilet bowl, new vanity and fish wallpaper to add a lighthearted touch.
All the home's flooring was sanded and re-finished. To compliment the improved flooring, wall paneling was upgraded with Wainscoting in some areas. The home's light system was upgraded with new light fixtures, wall scones, chandeliers, ceiling fans and lantern pendants.
The SCB group painted the house and applied wall paper to some of the home's rooms. As evidenced by the charming, whimsical touches added to the home's kitchen and bathrooms, the SCB group wanted the renovations to be as heartwarming for the homeowners as they were practical.
"The house was a labor of love," stated an SBC representative. "We hope the home owner loves it as much we do."
All that's left to reach completion of the renovation is bring the furniture back into the home, along with all of the homeowners' collectibles and personal items.
Stone Creek Builders LLC is located in Matawan and can be reached by calling (732) 566-0395. For more information, visit http://www.stonecreekbldrs.com.
About Stone Creek Builders
The founder of Stone Creek Builders has been a leading provider of building, remodeling and restoration services for over 20 years. Stone Creek Builders provides general contracting, remodeling, insurance restoration, house lifting, and storm reconstruction services to clients in central and shore regions of New Jersey. Contact us at (732) 566-0395 or visit our website at http://www.stonecreekbldrs.com for more information.