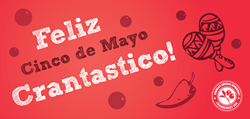 Some of the best recipe creations we've seen lately are from those who look at the cranberry and say, 'why not'? ~ Scott J. Soares, Executive Director, CMC
Wareham, Massachusetts (PRWEB) May 01, 2014
While professional chefs have long known about the diverse culinary applications of the cranberry, the berry's emerging use across the cultural breadth of the Americana kitchen lends a new twist to traditional ethnic dishes.
In celebration of Cinco de Mayo, the Cranberry Marketing Committee USA (CMC) invites aspiring cooks everywhere to try out recipes from its growing Latin collection.
"Some of the best recipe creations we've seen lately are from those who look at the cranberry from a completely new perspective and say, 'why not?'" said Scott J. Soares, Executive Director, CMC. "We're very excited that America's original superfruit is making a tasty contribution to our country's pioneering palate."
Featured Cinco de Mayo recipes include: Chilled Cranberry and Lettuce Taco, Cranberry Chipotle Sauce Quesadillas, Cranberry Braised Pork Stuffed Peppers with Pickled Onion and Crema, Cranberry Chipotle Barbeque Sauce, Cranberry Honey Quinoa Bars, Cranberry Jalapeno Chutney, Cranberry Margarita, Cranberry Nogada Stuffed Poblano Peppers, Cranberry Turkey Picadillo, Cranberry Salsa Chicken Salad Wrap, Zesty Cranberry Chili, Cranberry Gazpacho, Cranberry Avocado Salad and Cranberry Mexican Wedding Cakes.
A serving of fresh cranberries is a good source of vitamin C and fiber, provides antioxidant polyphenols, and contains only 1 mg of sodium.
About the Cranberry Marketing Committee, USA (CMC)
The CMC was established as a Federal Marketing Order in 1962 to ensure a stable, orderly supply of good quality product. Authority for its actions are provided under Chapter IX, Title 7, Code of Federal Regulations, referred to as the Federal Cranberry Marketing Order, which is part of the Agricultural Marketing Agreement Act of 1937, as amended. This Act specifies cranberries as a commodity that may be covered, regulations that may be issued, guidelines for administering the programs, and privileges and limitations granted by Congress. For more information about the CMC, visit http://www.uscranberries.com. Follow at http://www.twitter.com/uscranberries and http://www.facebook/cranbecravers.