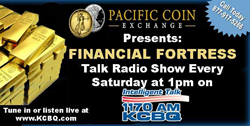 It is so very important to be educated on how to protect your hard earned savings, how to protect your retirement, how to protect your financial future. That is exactly what Pacific Coin Exchange is designed to do, educate.
Carlsbad, CA (PRWEB) April 30, 2014
Brian Whitfield, president and CEO of Pacific Coin Exchange is proud to have landed a new radio show on KCBQ AM 1170 and live streaming at http://www.KCBQ.com with archived versions available at http://www.pacificcoinexchange.com. The show is called Financial Fortress and Brian is excited to share his knowledge of precious metal investing, strategies and current economical events with all his listeners, in hope to take the listeners confidence in precious metals and strategies to protect their financial future to a higher level.
"I love nothing better than helping others succeed," Brian said. "Being happy in this life is important to me; doing what you love and what makes you happy for the short amount of time we have in this life is vital. Helping others protect their savings and buying power with my knowledge and experience within the precious metals industry makes me happy," he continued.
Brian Whitfield is indeed one who likes to help others succeed, and he has done so in an entrepreneurial capacity for the past 20 years owning multiple small businesses in Vista and Carlsbad. Brian came to San Diego by way of the United States Marine Corps over 3000 miles away from his closest relative. When his tour of duty ended with the US Marine Corps, Brian decided to go back to school, and for the better part of the next seven years Brian worked three part-time jobs to enable him to fund and complete a Bachelor of Science degree in Information Technology and a Master of Business Administration (MBA). It wasn't all easy, but he made it, and he is proud of his achievements, Brian contributes a lot of his successes as an entrepreneur to the discipline he learn in the Marine Corps and the year he and his wife struggled daily to make ends meet during those college years.
One of Brian's passions is education; Brian has been an associate professor of computers and business now for nearly 15 years and labels himself as forever a student and a teacher. A commitment that benefits all who visits Brian's businesses, reads his blogs and now listens to his new radio show.
All of these experiences come together in the new radio show, Financial Fortress, for the listeners benefit. Brian uses everything he has learned through his experiences in the military, as a business owner, investor and though his tireless study of the markets and current events to help make his precious metals exchange company, Pacific Coin Exchange, stand out amongst the rest. This new radio show will help further differentiate Brian and Pacific Coin Exchange as one of the industries leaders as many of his duties as the president and CEO of Pacific Coin Exchange is comprised of giving advice and guidance on how to navigate the sometimes-tough economical world of precious metals investing.
The new radio talk show fits right in with Brian eagerness to study and educate. Every day Brian spends hours researching the current event, economical news and the precious metals markets. Brian already fields many questions each and every day at Pacific Coin Exchange via customer to his store, phone calls and emails, not to mention his daily blog on PacificCoinExchange.com. Financial Fortress will allow Brian reach a broader audience, able to field live callers with questions about precious metal investing, or "financial insurance" as Brian likes to call it. During the show Brian will also be interacting with other local business and financial investing experts and leaders via on air interviews so to allow many different perspectives and angles regarding the topics of the show.
Those interested in the world of precious metals, current economical issue and those interested in protecting their financial future would be wise to click on pacificcoinexchange.com, an all-inclusive precious metals website that Brian personally runs and to tune in to his new radio show Financial Fortress on KCBQ 1170 AM or streaming at wwwKCBQ.com. One thing is certain viewers and listeners can rest assured all the information is carefully researched and verified.
"Only you, no one else, can determine your level of happiness and success in this life. I firmly believe that my goal in this life is to do only those things that make me happy; helping others protect their financial future makes me very, very happy. I've decided that I'll keep doing that," says Brian.
With such nuggets of wisdom, listeners should keep their ears peeled for San Diego's newest radio show personality, Brian Whitfield!
For more information, email Brian at info (at) pacificcoinexchange (dot) com, or visit pacificcoinexchange.com today.
###
FOR RELEASE: Immediately
CONTACT: Brian Whitfield
PHONE: 1-760-452-5777
EMAIL: info (at) pacificcoinexchange (dot) com