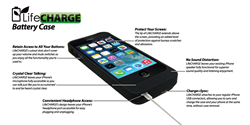 Dallas, TX (PRWEB) April 29, 2014
Ontrion recently learned that both the iPhone 5 and the Samsung Galaxy S5 had earned breakability scores that fell more than 50 percent below perfect. In response, the company has issued a challenge. Ontrion invites the testers to repeat the experiment with one of its LifeCHARGE battery cases as protection.
When Yahoo! Tech (https://www.yahoo.com/tech/which-smartphone-is-tougher-samsung-galaxy-s5-vs-apple-82696654153.html) recently compared the iPhone 5 to the Samsung Galaxy S5 in the toughness department, "the winner (according to a SquareTrade face-off) by a nose was the iPhone 5s, which earned a breakability score of 5.5. It just edged out the Galaxy S5's score of 6.0." The testers were specifically looking to determine if the smartphone could "survive a tumble onto the asphalt or a swim in the toilet."
While the two smartphones performed similarly, both the iPhone 5/5S and the Samsung Galaxy S5 failed to come close to a perfect score of 1 ("strong like bull"). LifeCHARGE from Ontrion has a way to improve these numbers while simultaneously keeping the phones supercharged. The company's LifeCHARGE battery case for the iPhone 5/5S and Samsung Galaxy protects the most popular smartphones from drops like those conducted during SquareTrade testing.
For more information on how improve the survivability of an iPhone 5 or Samsung Galaxy smartphone, contact OnTrion's Palki Kochar. To learn more about LifeCHARGE battery cases, visit http://www.mylifecharge.com and click on the phone models.
Contact Information:
13650, TI Blvd., Suite #309
Dallas, TX 75243
(877)676-0877