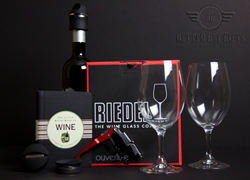 Candles are a good stand-by…but shouldn't we be trying a little harder?
Denver, Colorado (PRWEB) April 30, 2014
Mother's Day is drawing closer and year after year we find ourselves reaching for the same old thing to give to mom. Sure, she loves flowers but they only last a couple of days before dying and scattering the dining table with debris of beauty past. Chocolate is a nice treat, but after a couple of guilt-ridden bites they are gone forever. Candles are a good stand-by, but shouldn't we be trying a little harder?
Better Guy Gifts, despite the name, offers a wide selection of high-quality, thoughtful gifts for that special mother, grandmother, friend, or partner.
Most moms enjoy a well-deserved glass of wine with that homemade dinner that's been put on the table. Why not wrap up a set of Riedel Wine Glasses with a Wine Chiller Wrap? Or how about a Wine Trek Carrying Case with a Portable Wine Opener to use at those concerts in the park this summer?
Create that special gift package for Mom from the many individual items or look to Better Guy Gifts to guide the way to the perfect gift collection. There is definitely something for even the most discerning woman.
Stop giving gifts moms don't want. Send her something better!