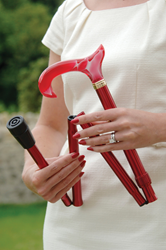 Walking Canes for Mother's Day
Ocala, Florida (PRWEB) April 30, 2014
Mother's Day is just around the corner and it is by far one of the most popular events of the year. Walking-Canes.Net has put together a collection of walking canes to choose from for the special day in May that celebrates that special lady. Mother's like to feel special and giving a fashionable walking cane as a gift can help make the day.
Folding walking canes for ladies, adjustable walking canes, elegant walking canes are all available in time to make that mother feel special. This year the fashion is in floral designs and beautiful solid colors that bring out any type of clothing mother might wear.
The folding canes are lightweight and made of aluminum which can adjust to different heights and some are made of carbon. The colors are bright and the floral designs come in many different colors and flower types. Most of the folding canes can fit into a purse or travel bag because the fold-up size is twelve inches. Adjustable ladies canes are a nice companion too. The adjustable canes can vary in height by adjusting the push pins on each cane.
Never forget the standard wooden cane which offers a lot of support and many years of service. Hand painted wooden canes are very much in today. Try a flamingo design or one with a bunny rabbit painted on the shaft. These canes are made from many types of wood including the ash, maple, hickory or the ever popular beech wood. Take a look at the wooden canes. Derby, Fritz and Crook handles have been the mainstay for many years on wooden canes.
Contact customer service at 1-888-928-1774 to speak to a representative that can help in the selection process. Walking Canes are a great gift for mother's in need of one.