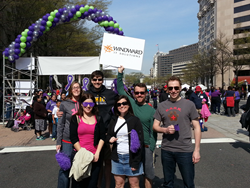 It was great opportunity for the committee to volunteer and support fellow colleague with a close connection to Lupus.
Herndon, VA (PRWEB) April 29, 2014
Windward IT Solutions, a niche consultancy focused on empowering customers to design, deploy, and manage both traditional and next generation global networks and data-centers, were proud volunteers on a perfect DC spring morning to cheer on the walkers at the 8th Annual DC Walk to End Lupus Now. The Windward Team arrived early to receive purple pompoms and noisemakers before making the brisk walk to the cheering location of 4th and Pennsylvania Avenue. Windward was glad to support the cause and help the local chapter of the Lupus Foundation of America exceed fundraising goals.
"Our Chapter witnessed an outpouring of donations and support in organizing this year's Walk," said Jessica Gilbert, President and CEO, Lupus Foundation of America – DC/MD/VA Chapter. "Our community came together, put on purple, and rallied for a cure to end this devastating disease. It's encouraging for patients and their families to receive support and continued hope that we will solve the cruel mystery. Every dollar raised ensures DC residents affected by lupus have access to the critical services and support needed to combat this brutal disease."
"We anxiously waited for the walkers to make their way down Pennsylvania Avenue only to be amazed once they did," said Rutger Thomschutz, Chairman of Windward's Volunteer and Activities Committee. "It was a sea of purple, filled with those fighting the disease, their families, and loved ones supporting them along the way. It was great opportunity for the committee to volunteer and support fellow colleague with a close connection to Lupus."
ABOUT WINDWARD IT SOLUTIONS
Founded in 1997, Windward IT Solutions is at the forefront of Service-Centric IT. With strategic consulting, unparalleled technical expertise, and our proven Windward Service-Centric IT Roadmap, we help our clients align the core competencies of process, organization, information, and technology to effectively address business and mission priorities. Windward offers a proven set of technology-independent solutions focused on the three core disciplines of Service-Centric IT – Service Management, Infrastructure Management, and Operations Management – to help our clients plan and deliver high-impact IT services. Windward is headquartered in Herndon, VA. More information on the company can be found online at: http://www.windwardits.com.