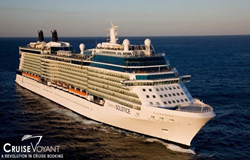 "Providing valid information on cruisers' special interests is very important to us at Cruise Voyant," commented Carmen Sigman, SEO Specialist with Cruise Voyant.
Fort Lauderdale, FL (PRWEB) April 30, 2014
With the recent occurrence of Earth Day and the trend of "going green", people are now becoming more environmentally conscious than ever. Cruise Voyant, an online cruise agency, recognized this trend and decided to add this information under their advice articles so consumers can review.
"Providing valid information on cruisers' special interests is very important to us at Cruise Voyant," commented Carmen Sigman, SEO Specialist with Cruise Voyant. "Recognizing eco-friendly cruising is a trend we researched as well as what constitutes a cruise ship as environmentally friendly and which ones are currently in that category."
Following is a list of criteria for cruise lines to follow to be considered an eco-friendly cruise ship.
Disposal of Waste Properly: One of the ways that a ship is considered eco-friendly is how the waste is disposed. Norwegian Cruise Line, for instance, donates their used cooking oil to farmers while Disney Cruise Lines actively recycles materials like scrap metal, ceiling panels, aluminum, cardboard, and plastic. This prevents the disposal of waste in landfills and the ocean which could potentially harm coral reefs, animals and even people.
Proper Certification: Another way to tell if a ship is eco-friendly is if it possesses an ISO14001 certificate, which establishes an environmental management plan. Holland America and Royal Caribbean both have these certificates, which mean that each ship in these fleets is given environmental guidelines to adhere to in order to help protect the earth.
Teaming Up with Others: Eco-friendly ships may also work with organizations to develop strategies in order to reduce energy use. World Wildlife Fund works with Costa to categorize and correctly dispose waste while offering environmental education programs. Clean Air-Cool Planet paired up with Lindblad Expeditions for a climate action strategy.
The most eco-friendly ship to date seems to be the Celebrity Solstice from Celebrity Cruises. With 216 solar panels, it can power the elevators or the 7,000 LED lights the ship has. Celebrity Solstice also has a water filtration system, heat-transfer windows and aerodynamic design. In addition, aluminum and tin are recycled and engine oil is left at port cities away from the water.
Cruise Voyant is comprised of cruising experts constantly conducting research about the newest travel trends in cruising and providing advice to the cruise consumer. Visit http://www.CruiseVoyant.com for information on cruising, cruise trends, cruise ships, cruise itineraries and cruise advice.
About Cruise Voyant
Cruise Voyant is a Fort Lauderdale-based cruise agency that is revolutionizing the cruise booking process. Cruise Voyant solves many of today's most difficult booking issues by allowing visitors to view a historic look at how pricing has changed on a particular ship and sail date. Cruise Voyant also offers interactive cruise itinerary maps, and it provides tens of thousands of photos of ships and destinations worldwide. Cruise Voyant helps consumers easily find their dream vacation by empowering them with online advice and insights that will help them easily book and manage their vacation plans.