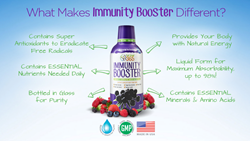 We wanted to simplify the decision-making process by allowing people to get all of their daily nutrients in one powerful, nutrient-dense absorbable shot.
Austin, Texas (PRWEB) April 30, 2014
Feel Great 365, a new health and wellness company, has begun its mission to make daily nutrition easily accessible for everyone with the launch of its first product, Immunity Booster. Feel Great 365's Immunity Booster is a refined and dynamic liquid formula packed with the essential nutrients missing in much of the food consumed today. By providing a once-daily, liquid ingestible solution, Immunity Booster makes up for the loss of these valuable nutrients maximizing the overall health and well being of its consumers.
"Going into a vitamin or supplement store can be an overwhelming experience," says Feel Great 365 president and founder Frank VanOs. "We wanted to simplify the decision-making process by allowing people to get all of their daily nutrients in one powerful, nutrient-dense absorbable shot."
Mr. VanOs worked in software before coming to a revelation about his own health and the wellness of the people in his life. "I am 46 years old and just had a baby," he says. "I want to be a young, healthy father and to be around a long time. I really began to educate myself on what I could do to not only improve the health of my own life but the lives of others. My passion for helping people has become even stronger as I've seen the results and testimonials from Feel Great 365's Immunity Booster."
VanOs says that one in five people in the United States are afflicted with an autoimmune disorder that can be attributed to the lack of nutrients that they are getting in their normal diets. Feel Great 365 has a unique formula that compensates for these missing nutrients with the essential vitamins, minerals, amino acids, and powerful antioxidants, needed for optimal health and longevity.
Feel Great 365's unique ingredients adapt to a person's specific ailments and hone in on areas that need nutritional improvement including increasing energy, mental alertness, reducing internal inflammation and oxidative stress in the body. Feel Great 365's specialized formula was designed for people of all ages and differing levels of health with an overall goal to prolong and increase quality of life. "There is always something to improve or an area where we can get healthier," says VanOs. "Feel Great 365's Immunity Booster helps you do that safely and easily. We formulated it with busy, on-the-go people in mind."
According to VanOs, one of the key components of the Immunity Booster's effectiveness is its formulation, providing all the essential nutrients (and co-factors in optimal amounts) needed by your body daily, in a liquid for maximum absorbability. "We didn't try to maintain a maximum price point for Immunity Booster. We formulated it based on what the essential nutrients your body needs daily, then we set the price. That is not the modus operandi for most nutritional supplements." "If you take a multivitamin, much of the nutrients are passed through the body and wasted," VanOs says. "Most health supplement companies use fillers such as carbonate that dilute the effectiveness. Feel Great 365 has no fillers, just the refined nutrients designed to maximize the healing properties of each ingredient."
Since the soft launch of Feel Great 365, VanOs says he has been amazed by the response from people whose lives have been positively affected by the Immunity Booster. "Every day, I get a call or a text from someone I don't even know telling me their inspiring stories about how much better they feel and the positive health impacts Feel Great 365 is making in their lives. It is very rewarding. We are going to continue to build on the Immunity Booster with future products and services that will have similar beneficial effects on the health of our customers. Our goal is to not only make others healthy, but to make it as easy as possible for them to maintain the wellness lifestyle."
Currently, Feel Great 365 is seeking health and wellness advocates and distribution partners to help spread its mission and grow the Feel Great 365 brand lifestyle around the world.
Feel Great 365's Immunity Booster comes in a 30-day supply bottle and retails for $79.95 or monthly auto-delivery at $69.95. The Immunity Booster is available for purchase on the Feel Great 365 website and through select distributors across the country. For more information, please visit Feel Great 365 on the web at http://www.feelgreat365.com or call 1-855-GO-FG365.
###
ABOUT FEEL GREAT 365: Founded in 2013 in Austin, Texas, Feel Great 365 is a wellness company with a mission to improve the lives of its consumers through its unique, proprietary products, services, and publications promoting a healthy and active lifestyle.