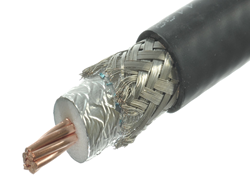 Being one of the largest antenna cable assembly or jumper manufacturers worldwide our customers continued to request that we make this addition. It took a bit of effort but we can now satisfy even more our customers.
Aurora, IL (PRWEB) April 29, 2014
AIR802 Corporation announces a new coaxial cable, CA600FLEX, identical to LMR-600-UF UltraFlex in both bulk reels and antenna cable assemblies or jumpers.
CA600FLEX is a 50 ohm coaxial cable with a high degree of flexibility making it quite desirable for applications with repeated bending requirements. In certain applications such as tower installations wind can provide repeated movement to a cable. Cable with a solid center conductor may break after repeated bends. CA600FLEX design has multiple solid copper strands for the center conductor which withstands these repeated bends. It is also highly desirable for installations with multiple bends. The jacket is constructed with a black thermoplastic elastomer (TPE). It is suitable for indoor or outdoor use.
This cable is available via 500 feet bulk reels, also sold by the foot and is available in antenna cable jumpers with numerous connector options and lengths.
AIR802 is a global manufacturer focused on high quality engineering and product production, same day shipping, strong ethics and excellent customer service.