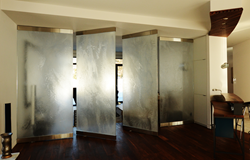 Glass has the rare strength and durability needed to withstand the challenges of constant daily use…
(PRWEB) April 29, 2014
ThinkGlass is proud to present a new way to utilize glass in an architectural setting: impressive glass panels for doors.
ThinkGlass announced today that they have debuted a new category of architectural applications for their glass product line. Glass doors and glass panels made with ThinkGlass special textured glass are the latest offering from glass master Michel Mailhot.
Glass has long been a key element in architectural design, appreciated for its natural beauty and its ability to transport or transform light. Often the elements are glass countertops, translucent windows with artistic colors, glass sculptures or glass vanity tables.
Large glass panels are rarely textured, and almost never contain hand painted embedded colors. These great architectural elements from ThinkGlass are versatile and can be used as panels between rooms, and can be made either in sliding or tilting models depending on the preference of the user. These doors offer a more original aspect than regular glass panels or glass panes with patterns or images applied to them.
Architects and designers appreciate ThinkGlass' glass designs for their versatility and unique properties. With its vast array of textures and artistic movements, ThinkGlass' creations will dramatically improve any architectural design and create a special attraction element.
Since glass counters are gaining popularity as the hottest new material for residential kitchen and bathroom countertops, it was only a matter of time until glass would be used in a multitude of architectural applications. From banks and hotels, to retail stores and restaurants, all manner of businesses are now discovering that glass adds a dimension of beauty and elegance to the workspace, and are asking their designers and architects to incorporate glass into their designs.
"No other material has this relationship with light; glass is like a light magnet. The piece of glass on a sunny morning is not the same at sunset and will be different again the next morning if it is rather cloudy," said ThinkGlass' glass master Michel Mailhot. "Glass is living through light. It's captivating. It is also the best chameleon material that can meld into any decor or space. In the history of the glass was never set aside, it is always present in the human construction."
Glass has the rare strength and durability needed to withstand the challenges of constant daily use… and the end result is always mesmerizing. Go for purity, go for ThinkGlass.
About ThinkGlass
The ThinkGlass story began in 1999 in an empty room under the leadership of two creative individuals who were passionate about beautiful glasswork. Today, the company is one of the most successful glass design and manufacturing studios in the world with a shop that encompasses more than 30,000 square feet, 27 employees and 21 state-of-the-art, custom made ovens.
ThinkGlass is still headed by its two original founders – glass master Michel Mailhot who is the artistic soul of the company, and Bertrand Charest, a certified engineer and company president. Together with their talented team, they produce all manners of glass masterpieces, from residential kitchen to bath- room vanity countertops and backsplashes to fantastical sculptures, wall murals and floor tiles, and even large-scale commercial projects for restaurants, nightclubs and offices.
ThinkGlass quickly became a leader in the thermoforming industry by pioneering a versatile technique that allows the creation of new or repetitive textures. This process allows the creation of glass slabs without thickness constraints opening the door to all kinds of design possibilities. All ThinkGlass creations are made from 100% recyclable glass using sustainable practices and without the use of any adhesive or sealant potentially containing harmful volatile organic compounds (VOCs).
For more information about ThinkGlass products, visit thinkglass.com or call 1-877-410-4527.