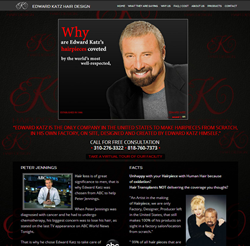 After 27 years in the business we thought it was time for an upgrade online.
Los Angeles, CA (PRWEB) April 30, 2014
Edward Katz Hair Design is proud to announce the launch of their new website, http://www.EdwardKatzHairDesign.com.
The Los Angeles-based non-surgical hair replacement center recently unveiled their new website design. The new website has been upgraded from Flash to HTML5, increasing its compatibility across mobile and tablet platforms.
The new website is also more interactive for users and contains a wealth of information about the history and future of Edward Katz Hair Design.
"After 27 years in the business we thought it was time for an upgrade online," said Edward Katz. "The new website will benefit both our business and clientele."
The new Contact section of the website gives visitors the ability to request a consultation or phone consultation with Edward Katz and submit questions to Edward Katz Hair Design. Visitors can also take a virtual tour of the facility for an inside look at hair replacement and hair design.
The Edward Katz Hair Design Replacement System is made with the highest grade of synthetic fiber made entirely from scratch at their Los Angeles facility. The synthetic fiber gives a more natural look, and the ability to create the perfect color to make one's existing hair. Even Aderans, the world's largest producer of hairpieces, uses synthetic hair and is in the process of purchasing Hair Club for Men.
It is no secret that hair extensions for women are seen as a cosmetic improvement while men try to hide wearing hair pieces because of the embarrassment. Edward Katz International Hair Design has multiple celebrity clients who feel confident wearing his hair pieces, even on sets with the unrelenting glare of stage lights.
About Edward Katz
As one of the top designers and creators of hair replacement, Edward Katz, has been dedicated and indomitable in helping his clientele customize and maintain their outward appearance while reclaiming their inner self confidence. His drive to make his products affordable, durable, and natural looking has propelled the demand for his creations. As an alumnus of UCLA and successful businessman in a variety of industries, Edward Katz, has taken his past experience with insecurity and turned it into a passion of helping those of all diversities for over 20 years.
About Edward Katz Hair Design
Edward Katz Hair Design has become the premier non-surgical hair replacement for men who appreciate the quality and innovative designs made and manufactured in Los Angeles, CA. Edward Katz is considered by many as the best hair designer in the history of hair replacement. The Edward Katz Hair Replacement System is undetectable and may be worn 24 hours a day for weeks at a time.
To set up a consultation, contact Edward Katz Hair Design by phone at 1-310-276-3322 or inquire online at http://edwardkatzhairdesign.com.