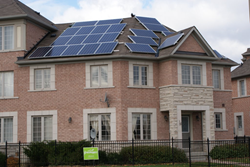 Toronto, ON (PRWEB) April 30, 2014
Grasshopper Solar, a leader and innovator in the solar energy industry announced that it has secured $100 Million from institutional investors to expand its award winning FREE Solar Program.
Grasshopper Solar will aggressively expand its operations across Ontario helping support the economy by creating new jobs and contributing to a greener energy mix. Grasshopper's aim is to build 5,000 FREE Solar systems for homeowners on qualifying properties over the next 3 years. The Solar Program allows homeowners to get a solar system on their house with no money down, no credit checks, and no maintenance all while earning a guaranteed income for 20 years. A typical solar system can last up to and more than 40 years, so after the 20 years the homeowners get to keep the solar system at no charge and can use the power to offset their energy bills which could add up to $100,000 in savings, which means an increase in the homeowner's property value as well.
"We are excited to expand our program and have more homeowners benefit from solar power in Ontario." said Azeem Qureshi, CEO of Grasshopper Solar, "Solar will play a key role in our future energy mix and programs like this are essential to ensure that we are able to achieve that goal."
The Grasshopper FREE Solar Program will give homeowners the opportunity to get involved in solar regardless of their financial situation, further promote the Government of Ontario's microFIT Program, and contribute to creating a healthier environment for current and future generations.
About Grasshopper Solar
Grasshopper Solar is an award winning solar energy company, with one of the largest solar install bases in Ontario. Grasshopper Solar has delivered solar power systems to homeowners, farmers, public schools, institutions, municipalities and large corporations, and has itself invested in solar energy and owns and operates many solar systems. For more information about the company please visit http://www.GrasshopperSolar.com.
For further information, please contact:
Media Relations
Lina Poka, Marketing and Media
1.866.310.1575 x 255
Lina(dot)Poka(at)GrasshopperSolar(dot)com
Investor Relations
Azeem M. Qureshi, CEO
1.866.310.1575 x 108
Azeem(dot)Qureshi(at)GrasshopperSolar(dot)com
Saied Nadjafi, Executive Chairman
1.866.310.1575 x 130
Saied(dot)Nadjafi(at)GrasshopperSolar(dot)com