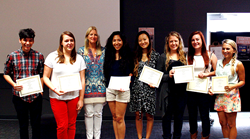 (PRWEB) April 28, 2014
What do you get when you challenge 20 Ringling College students to spend a weekend using their creative talents? A comprehensive new bar and restaurant concept involving research, ideas for its name, identity, logo, and tagline, and a complete branding proposal for the establishment… in just 48 hours.
The team developed 12 polished concepts of such exceptional quality that Sanctuary Holdings, the organization that commissioned the weekend design charrette for its new property in the U.S. Virgin Islands, had trouble selecting one. Hence, two winning teams were named on April 23rd at a presentation held in the College's Advertising Design building, along with two additional teams that received honorable mention recognition.
"We were absolutely thrilled with the creativity and quality of the design concepts we received," said Jill Ramsey of Sanctuary Holdings. "They were comparable with the work we've seen from leading agencies, and speak well of the degree of professionalism that Ringling College instills in its students. Investing in this charrette was one of the wisest business decisions we've made for our new restaurant and bar. We plan to engage The Collaboratory once again … to further develop the branding and merchandising strategy for our destination that will cater to cruise travelers visiting St. Thomas."
The teams were selected and coached by Bernard Canniffe, head of Ringling College's Graphic Design, and Advertising Design programs, and interim head of the Business of Art and Design major. Six students received $500 each for a total of $3,000.00 in prize money for their designs. Winners from Team Abi included Stacy Bloodworth, Kim Daley, Nazanin Varasteh, and Alonso Vasquez. Their design was inspired by a rare Caribbean gemstone called Larimar that embodies the beautiful blue colors of the sea and sky. The origin of the name "abi" comes from the Persian word for blue, and is synonymous for the word for water. Their tagline, "A Splash of Fun," evokes both water and the spirit of play.
Team Barefoot's submission also garnered praise and $500 each in prize money for teammates Lauren Gayle and Chelsea Brukardt. Their concept evokes the relaxing, kicked back vibe of the U.S. Virgin Islands and incorporates the island of St. Thomas, the shape of which resembles a footprint, into their logo design. Their tagline, "We Be Limin," draws from Caribbean slang for hanging out, chilling out, and partying with friends.
Ramsey also recognized students Maria De La Riva and Kim Jones of Team Sea Senor and Sarah Johnson of Team Port for honorable mention.
"The success of this charrette for Sanctuary Holdings illustrates the value that The Collaboratory can provide for businesses across the industry spectrum," said Cynthia Gravino, Associate Vice President of Collaborative Enterprises at Ringling College of Art and Design and leader of The Collaboratory, which provides students with opportunities to obtain real-life, client-based project experience. "Our multidisciplinary, human centered approach to designing new products, services, and solutions is in great demand from businesses today. These intensive collaborations are a great way for Ringling students to deliver meaningful contributions to their client's future success and their own careers."
About Ringling College of Art and Design
Ringling College of Art and Design is a private, not-for-profit, fully accredited college offering the Bachelor's degree in 14 disciplines: Advertising Design, Business of Art & Design, Computer Animation, Digital Filmmaking, Fine Arts, Game Art & Design, Graphic Design, Illustration, Interior Design, Motion Design, Painting, Photography & Digital Imaging, Printmaking, and Sculpture. Located in Sarasota on Florida's Gulf Coast, the picturesque 48-acre campus now includes more than 110 buildings, and enrolls nearly 1,300 students from more than 50 countries. It is recognized as being among the best and most innovative visual arts colleges in the United States as well as a leader in the use of technology in the arts. http://www.ringling.edu.