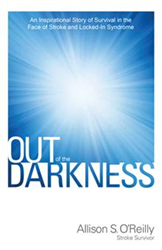 You never know how quickly life can change or why.
McLean, VA (PRWEB) April 30, 2014
Imagine being conscious but unable to move or speak. Allison O'Reilly has experienced this "locked-in" feeling firsthand and survived to tell her story.
In 2010, O'Reilly suffered from a brainstem stroke that left her in a rare state identified as locked-in syndrome. "Out of the Darkness" is an inspiring story of O'Reilly's fight for survival and determination to regain her independence.
"You can feel all sensations," O'Reilly said. "You can feel every touch, see and hear everything, but are unable to move; all you can do is blink or roll your eyes to communicate."
May is stroke awareness month, and O'Reilly is sharing her story in hopes of educating others about stroke awareness and prevention. It is beneficial to be prepared for the realities of a stroke and recovery, since strokes can happen to anyone including younger people.
O'Reilly's inspirational story would not be complete without highlighting the supportiveness of her friends and family. They gave her hope to survive and she wishes to provide the same encouragement to others.
"You never know how quickly life can change or why," O'Relly said. "So, be thankful every day and don't take the little things for granted; live life to the fullest."
For more information, visit outofthedarknessbook.org.
"Out of the Darkness"
By Allison S. O'Reilly
ISBN: 978-1-4808-0481-4 (sc), 978-1-4808-0483-8 (hc), 978-1-4808-0482-1 (e)
Softcover, $12.99
Hardcover, $30.99
Ebook, $3.99
Available on Amazon, Barnes & Noble and Archway Publishing