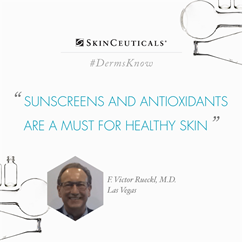 In addition to their personalized prescription process, all SkinCeuticals products are packaged so that the efficacy is the same from day one to completion of the product.
(PRWEB) May 05, 2014
Beauty promises are out there by the dozens; on every billboard, in every magazine and between millions of women as a topic of conversation. However, the real question is which promises should one believe? Cindy Crawford wants people to slather their faces with a melon extract created by a French doctor and Oil-of-Olay pledges overnight improvement. The average over-the-counter wrinkle cream works by moisturizing the skin, which subsequently reduces the appearance of fine lines by improving the skin texture. Wrinkle creams also tend to include alpha-hydroxy acids, which help slough away dead skin cells and exfoliate, creating a smoother appearance.
Other wrinkle creams contain antioxidants such as green tea, co-enzyme Q10, kinetin and vitamin C. It's believed that antioxidants can destroy free radicals; the unstable molecules that are created by sun damage and can cause skin to wrinkle. Antioxidants are more about prevention than reduction of wrinkles. Many products have retinols and retinoids in them (the difference with these is in the compounding and therefore some can be better tolerated). Both are made from a vitamin A derivative. Stronger retinoids are prescription-only because of the strength, which is when a product contains straight retinol. A bottle of a product that has moisturizer, cream, emollients and retinol is not going to be as strong as a straight retinol product. For some people this is just fine.
What Works, What Doesn't
1) As a person ages the epidermal cells become thinner. Obviously, the thinner cells make the skin look noticeably starved. Retinol is an ingredient in many wrinkle creams. The over-the-counter creams that contain retinol appear to offer some real benefits, but some people require a prescription-strength version. Retinol, when mixed with prescription retinoids such as tretinoin (Retin A and Renova) and tazarotene (Avage and Tazorac) are particularly helpful. The primary reason to use a retinoid is that they have proven results. Retinoids have been studied extensively and have been shown to be effective in reducing the wrinkles that are pre-existing. It suggests that retinoids also prevent new wrinkles from appearing. However, one cannot expect immediate results; it takes at least 10 months of treatment to see the benefits. All retinoids are derived from vitamin A which is imperative to 2) help the skin rebuild tissues and encourage cells to retain moisture making the skin look full.
So then what actually works for combating those unwanted wrinkles?
We spoke to Dr. F. Victor Rueckl, dermatologist at Lakes Dermatology and he revealed a few of the industry musts that he recommends to his patients. Dr. Rueckl suggests the product brand SkinCeuticals. "This brand offers a vast array of products, enabling our patients to find exactly what they are in need of. SkinCeuticals is a product line backed by science. Their product creations involve biopsing subjects' skin to see how the products work in specific formulations. SkinCeuticals' claims are backed by science and they have the skin biopsy results to prove their claims." He continued, "All SkinCeuticals products are packaged so that the efficacy is the same from day one to completion of the product. This is important because when any product is opened, the potency is compromised by exposure to air, light, moisture or any other variable.
SkinCeuticals has changed their packaging to compensate for those environmental variables. Despite the fact that the SkinCeuticals packaging is very attractive, it's a work horse. All their products have a three year shelf life once they are opened."
Katie Rueckl, general manager of Lakes Dermatology said, "We recommend SkinCeuticals Retinol 1.0. Using this product 1-2 times a week will make huge improvements on your skin within a few months. Adding in other daily creams along with this will make a world of difference too, like A.G.E. Interrupter, Face Cream, and Skin Firming Cream. The choice of face cream products depends on your skin type and age. But really, a retinol product is great at any age!"
As with any good thing, come some downsides. There are several pitfalls of wrinkle creams to take into consideration before plunking down some hard-earned cash. First, and most undesirable, are limited results. Every person is different and therefore their skin reacts differently than someone else's. A dermatologist can be of great assistance when trying to determine which product will be most effective in the personal battle against wrinkles. The second pitfall to consider is the cost of these products, both prescription and over-the-counter. If one were to visit the local pharmacy, the mainstream wrinkle creams cost less than $15 per ounce but they may be sacrificing worthy and notable results. Prescription retinoids can cost $55 per ounce, which may or may not be covered by insurance. Getting help from a professional is the best way to get results. And remember, "When it comes to any wrinkles, the large majority are from the sun, so the very basic product is always daily sunscreen!" says Dr. Rueckl.
References:
1) http://dermatology.about.com/cs/beauty/a/wrinklecause.htm
2) http://www.fitday.com/fitness-articles/nutrition/vitamins-minerals/4-essential-vitamins-for-great-skin.html#b
3) Quote from Dr. F. Victor Rueckl, dermatologist at Lakes Dermatology