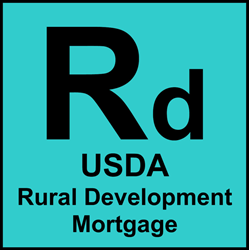 Buyers can use a Rural Development Loan to purchase a home with no down payment.
Chicago. IL (PRWEB) April 29, 2014
Housingwire recently reported that Carrington Mortgage Services has lowered it minimum FICO score on some of its government loan programs including FHA, VA, and USDA Rural Development. Other large lenders have also eased their credit guidelines to focus on this underserved segment of the mortgage market that includes borrowers with credit scores below 640. Some lenders have lowered the minimum credit score to 620 while others have gone as low as 550 depending on the loan program and down payment.
After the real estate bubble burst in 2008, lenders raised their credit standards setting a minimum credit score to qualify for a mortgage at 640. Now that the real estate market is on the road to recovery, many lenders are easing their standards to accommodate more borrowers. Along with lower credit scores, more lenders are beginning to offer 100% financing such as VA and Rural development loans.
One of the culprits that was vilified for the Real Estate Bubble and subsequent crash was the proliferation of "100% Financing" and "No Down Payment" mortgages. These loan programs popped up in the late 1990's and were designed to shepherd first time buyers into homeownership. While there is a correlation between down payment/credit scores and mortgage defaults, these are only two factors of many in the mortgage underwriting process. Other underwriting factors have to be considered and the loan must be viewed in its entirety. Some of the other underwriting factors considered are: education level, employment history, income stability, usage and management of debt, ability to accumulate savings, condition and suitability of the home, etc.
One example of success is the USDA (US Department of Agriculture) Rural Development program. Over the years Rural Development loans have given thousands of borrowers the opportunity for home ownership with significantly lower default rates than other programs. The emphasis is to encourage home ownership in small rural towns. Buyers with moderate income can purchase a home with no money down but the property must be located in a rural area with a population of 20,000 or less. There is also a limit on family income which varies according to the size of the family. The USDA maintains a website where potential buyers can punch in an address to determine if the property is eligible for USDA financing and check out the income limits for that area.
Loans for 100% financing are still available under this program but the minimum credit score required to qualify varies by lender. Lenders providing Rural Development loans on a Wholesale and Correspondent basis can be found at http://www.MortgageElements.com. Mortgage Elements maintains one of the industry's largest databases of Wholesale, Correspondent, and Mini-Corr lenders. The database contains almost 200 lenders, most of which offer Rural Development mortgages on a national, regional, or state specific level. The Mortgage Elements database can be accessed for free by Mortgage Professionals. Links from the Mortgage Elements website to various lenders greatly enhances the ability to research a lender's credit score requirements on the loan programs they offer.
About Mortgage Elements Inc.
Mortgage Elements Inc. is an internet marketing company that provides marketing, database, search, and consulting solutions for the mortgage industry through its website http://www.MortgageElements.com. The company uses a unique website design optimized for touch screen technology and use on mobile devices, desktop, and laptop computers. Mortgage Elements is a B2B company for the mortgage industry and not a lender.