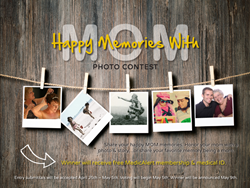 We couldn't think of a better way for individuals to celebrate their loved ones this Mother's Day. - Karen Lamoree, COO of MedicAlert Foundation
Turlock, CA (PRWEB) April 29, 2014
MedicAlert Foundation, an international charity and the nation's leading provider of medical alert bracelets, jewelry, IDs and emergency services, today announced the launch of a new Facebook contest celebrating Mother's Day. MedicAlert invites individuals to share their happy "mom" memories by submitting photos with their mother, or photos of themselves being mothers, for a chance to win a MedicAlert membership and bracelet, starting April 29th.
"We couldn't think of a better way for individuals to celebrate their loved ones this Mother's Day," says Karen Lamoree, COO of MedicAlert Foundation. "We are excited to celebrate the happy memories our fans have of their mothers, as well as their memories of being mothers, and look forward to giving the deserving winner the ultimate gift – peace of mind – of which MedicAlert successfully delivers."
Facebook participants will be entered to win a MedicAlert account and bracelet by posting a photo and happy memory with their mother. Posting will last for one week, followed by a week of voting, in which fans can select their favorite photo and story. The winner will be announced May 9th, 2014.
For more information about MedicAlert Foundation, visit http://www.medicalert.org.
For MedicAlert Facebook Page, visit http://www.facebook.com/MedicAlert.
About MedicAlert Foundation International
Established in 1956, the nonprofit charity MedicAlert Foundation pioneered the use of medical ID products and delivers the most dependable, responsive, and trusted Emergency Identification and Medical Information Network. MedicAlert provides the functionality of an e-health information exchange through an innovative combination of a unique patient identifier linked to a personal health record and a live 24/7 emergency response service. MedicAlert Foundation International medical ID products alert emergency personnel to a member's primary health conditions, medications or other critical information. In addition to its 24-hour emergency response service, MedicAlert Foundation International also provides family and caregiver notification so that members can be reunited with their loved ones. Visit http://www.medicalert.org for more information.