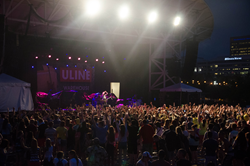 (PRWEB) May 05, 2014
Summerfest officials are excited to announce the highly anticipated lineup of headliners slated for the Uline Warehouse with Miller Lite and CW 18 & My 24 during Summerfest 2014.
The Uline Warehouse with Miller Lite and CW 18 & My 24 will feature the following headliners:
June 25 10:00 pm Rick Springfield
June 26 10:00 pm Kansas
June 27 8:00 pm Saints of Valory
June 27 10:00 pm ZZ Ward
June 28 3:00 pm John Hiatt and the Combo
Juen 28 10:00 pm Michael McDonald
June 29 10:00 pm David Nail
July 1 7:00 pm Railroad Earth
July 1 9:45 pm Yonder Mountain String Band
July 2 3:00 pm Berlin featuring Terri Nunn
July 2 10:00 pm Joan Jett & The Blackhearts
July 3 10:00 pm SoMo
July 4 10:00 pm The Chainsmokers
July 5 10:00 pm George Thorogood & The Destroyers
July 6 8:00 pm Jacob Martin Band
July 6 9:30 pm Cole Swindell
Please check Summerfest.com for updates. All performers and show times are subject to change.
Fest-goers can save time and money with print-at-home Advanced Sale General Admission tickets and the Weekday Value Pass which can be purchased now at Summerfest.com with no incremental service fees. The 11-Day Power Pass presented by Pick 'n Save with Coffee-mate and Screamin' Sicilian is available now exclusively at Pick 'n Save locations in southeastern Wisconsin for only $70 through June 1 or while supplies last.
About Summerfest
Summerfest 2014 will take place June 25 - 29 and July 1 - 6 from Noon until Midnight and will be closed Monday, June 30. Following its 1968 debut, Summerfest has evolved into what is now recognized as "The World's Largest Music Festival" and Milwaukee's cornerstone summer celebration, bringing the music industry's hottest stars, emerging talent and local favorites along with approximately 900,000 people from Milwaukee and around the world together each year for an unforgettable live music experience. During the festival, the spotlight shines on over 800 acts, over 1,000 performances, 11 stages, delectable food and beverages and interactive activities, all in a world-class festival setting. Patrons can also enjoy Miller Lite, the Official Beer of Summerfest. For more details, visit Summerfest.com, Facebook.com/summerfest or Twitter: @Summerfest.
# # #