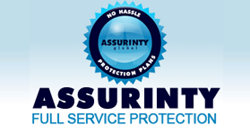 With full service protection, you're bound to keep growing your list of loyal consumers. These are the ones who return; these are the ones who tell others about you.
Fort Lauderdale, FL (PRWEB) May 01, 2014
"Our merchants love how the extended warranty program from ASSURINTYGlobal gives their customers exactly what they want," said Joe Palko, 3dcart's Chief Marketing Officer. "After all, buyers of electronics, appliances, jewelry, watches, eyewear, and furniture want to know that the stores they buy from, whether they are brick-and-mortar or online, care about them and will help them if their costly purchases fail."
"In addition to hooking and keeping customers happy," Palko continued. "ASSURINTYGlobal is a tool our clients can use to differentiate themselves from their competition. In today's competitive environment it is a fatal mistake to stay static without innovating and offering something new, something fun, and something that is of an incredible benefit to your customers every now and then." 3dcart's integration of ASSURINITYGlobal's product warranty program is for electronic, appliance, jewelry, watch, eyewear, and furniture retailers.
Ensures Reliability of Products
Unreliability is probably the biggest complaint customers have following a purchase of a big ticket item. In order to survive, merchants must ensure that the products they offer work as they should. When products are unreliable, customers view the merchants who sold them as being unreliable and dishonest. Merchants can use the ASSURINTYGlobal extended warranty program to ensure that their products perform as advertised, and, if they do not, their customers have recourse.
Prove the Merchants Care
"Doesn't everyone like to do business with merchants who care," Palko asked. "Sure they do. And when merchants offer product warranty programs, customers know that they care."
The ASSURINTYGlobal extended warranty program is a great way to build long-lasting relationships with customers. It shows that the merchant is committed to providing products that are long lasting and work as they should. With this program on their side, merchants benefit from amplified trust and appreciation from their customers.
Increased Customer Satisfaction
Going hand-in-hand with selling products that work and last is increased customer satisfaction. The ASSURINTYGlobal extended warranty program has a psychological effect on customers so that they view their shopping experience as a positive and unforgettable one. After getting such a warranty from a merchant, a customer is much more likely to return to that store, even if it is online.
To help the ASSURINTYGlobal extended warranty program increase customer service, it has been designed it to offer a variety of extended protection plans to cover a number of different types of damage and malfunctions.
Improved Customer Loyalty
Satisfied customers who know that a merchant cares are loyal customers. Palko explained, "You can't help but to develop a devoted and steadfast clientele when you keep fulfilling their needs and making them feel cared for. With full service protection, you're bound to keep growing your list of loyal consumers. These are the ones who return; these are the ones who tell others about you."
To learn more about the AssurinityGlobal APP for 3dcart, visit http://blog.3dcart.com/product-warranty-program-top-4-benefits-every-merchant-will-love/.
About 3dcart:
Founded in 1997, 3dcart is a complete and robust ecommerce platform designed to help e-store owners thrive in a competitive market. With hundreds of features built directly into its software, online merchants can effectively open, operate and maintain a successful online store with relative ease and efficiency. 3dcart currently powers tens of thousands of eCommerce merchants, and its support team is always available, at no additional cost, 24/7/365. 3dcart is an Inc. 5000 company, a Visa PCI Certified provider and a pioneer in mobile commerce and social media marketing. Fully scalable and completely customizable, 3dcart continues to be the eCommerce solution of choice by industry experts all over the world.
About ASSURINTYglobal:
ASSURINTYglobal provides best-in-class, technology enabled extended service contract solutions for eCommerce. Their solutions are scalable so that they can work with merchants of all sizes, from start-ups to large enterprises to offer value-add protection/repair plans and extended warranties to their customers in conjunction with their purchase. The merchant captures significant revenues (typically 30% margins) on each sale.
With the ASSURINTYglobal solution, the retailer does not need to code and map the warranties – that is handled in real time off of their cloud-based platform. ASSURINTYglobal is seamlessly integrated with internet retailers running on all the major platforms and is proud to have partnered with 3dcart to offer their solution to merchants running on 3dcarts's platform.