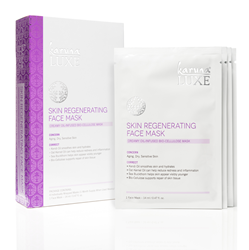 Sephora will begin carrying Karuna's award-winning collection of sheet masks for the face and neck—making Karuna more accessible than ever.
Los Angeles, CA (PRWEB) May 01, 2014
Beginning in April, Sephora will begin carrying Karuna's award-winning collection of sheet masks for the face and neck—making Karuna more accessible than ever. The no-rinse, one-step sheet masks, which target specific skin care needs, are distinguished by their clinically-proven results, exclusive mask + serum duo action and on-the-go convenience.
Karuna sheet masks contain a custom-blended beauty boost featuring plant extracts, peptides and antioxidants to promote replenishment and revitalization to all skin types. Each sheet mask is made from a natural cloth of biodegradable wood-pulp fiber, which retains 50 percent more moisture than synthetic cloths. The types of masks in the Karuna line include Exfoliating+, Clarifying+, Anti-Oxidant+, Brightening+, Age-Defying+, Hydrating+, Renewal+ Eye and more. The Karuna Luxe collection features sheet masks with highly active serums infused into exceptional sheet mask material, including 100 percent Japanese cotton and Bio-Cellulose. They are also free of petrochemicals. All Karuna products are dye-free, paraben-free and contain no sulfates.
"Seeing Karuna in Sephora's is a dream come true," said Linda Wang, founder of Karuna. "I created Karuna sheet masks to help women discover an easy beauty routine and feel great about their skin. Now, with the reach of Sephora, millions of people will gain access to our clinically-proven mask + serum sheet masks."
Wang said that according to Karuna's market research, most women aren't paying enough attention to their skin. "We found that nine out of 10 women don't mask as often as they should, because clay and mud masks are messy and inconvenient. Any aesthetician will tell you that regular masking is essential to skin health. Karuna sheet masks are an easy, mess-free way to apply a deep conditioning to your skin and improving its general appearance," she said.
Karuna's sheet masks require no setup, long application times or cleanup like traditional clay, mud or liquid masks. The no-fuss sheet masks are specially cut to adhere to the curves of the face. Once the mask is applied, relax for 15-20 minutes, remove it and massage the excess serum into the face. Each mask bathes hard to reach pores in the rich, replenishing ingredients and results are instant—and more than you'd see from a serum, alone. Each mask contains a custom-blended beauty boost, and plant extracts, peptides and antioxidants bring replenishment to all skin types.
"Our goal at Sephora is to offer high-level expertise and best in class product across all our category offerings," says Sephora Chief Merchant Margarita Arriagada. "Karuna masks offer our clients a smart, easy to use, savvy skin care treatment that meets the demands of their busy lifestyle."
The following schedule highlights the dates that Sephora will be launching Karuna products:

April: All Karuna products launch on Sephora.com.
May: The Karuna Luxe line will launch in 120 Sephora stores.
June and July: Sephora-exclusive Karuna Skin Transformation Kit in addition to Full box sets of Hydrating+ and Brightening+ launches in more than 445 stores, including Sephora Inside JCPenney. Single packettes of Age-Defying+, Hydrating+ and Brightening+ launch in select Sephora Beauty to Go locations.
August: Beauty to Go single packettes launch in-store
To learn more, visit the Karuna website at http://karunaskin.com or the Sephora website at http://Sephora.com.
About Karuna
Since 2009, Los Angeles-based Karuna has been combining science and nature to solve the most common skin concerns in a fresh new way. Designed to address each individual's skin struggles in a no-mess, DIY manner, Karuna's products hydrate, clarify, exfoliate, brighten and more, depending on each customer's personal needs. Karuna's specialized ingredients are custom blended to deliver specific results, instantly. Specialty stores and resorts such as Bliss Spa, Beauty.com, Dermstore.com, Capella, Wynn Resorts, the Four Seasons and others carry Karuna products. For more information, visit http://karunaskin.com.
About Sephora
Bold, Boundless, addictive – SEPHORA. A revolutionary beauty retailer, Sephora has been changing the face of prestige cosmetics since its industry-shaking debut in 1970s Paris. Sephora was acquired by leading luxury group LVMH Moët Hennessy Louis Vuitton in 1997 and launched its innovative concept stateside in 1998, where its dynamic, open-sell atmosphere evolved by merging the freedom of experimentation and product discovery with the expertise of personal consultants. Today, stores are home to a curated assortment of 200 world-class brands – including classics, cult favorites, emerging collections and Sephora's own private label, SEPHORA COLLECTION – and feature more than 14,000 unique products across makeup, skincare, perfume, haircare, body, professional tools, and more. Powered by Sephora University, Sephora is the beauty education hub, offering customized consultations at the Beauty Studio, a variety of complimentary classes and one-on-one service from Personal Beauty Advisors, along with exclusive retail technology including SKINCARE IQ, COLOR IQ and Scentsa, resulting in the most expansive educational services in beauty retail. With over 1,780 locations in 29 countries – including 349 in North America and over 430 Sephora inside jcpenney locations – Sephora is an international force in beauty. Adding to its global retail network, Sephora's award-winning website, Sephora.com, and its every-growing presence on Twitter, Facebook and Pinterest, make it the world's premier digital beauty destination. Sephora's vibrant, interactive online community, Beauty Talk, amplifies the in-store experience by offering clients exclusive access to personalized beauty advice from Sephora's PRO Artistry Team and provides a platform for open dialogue with beauty aficionados from around the world. For the latest in beauty, please visit http://Sephora.com.