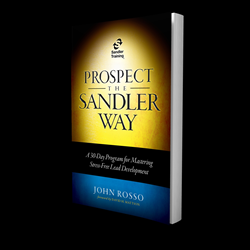 John has written an amazing book that breaks down Sandler Training's "No Pressure" prospecting approach into a simple, effective 30 day turn-key program
Lone Tree, CO (PRWEB) April 30, 2014
As part of its continuing mission to grow and support top-performing sales professionals, Sandler Training is pleased to announce its latest sales training book, Prospect the Sandler Way, A 30-day Program for Mastering Stress-Free Lead Development.
Authored by certified Sandler Trainer John Rosso, the book offers an authentic, real-world approach to the sales process and focuses on buyers' and sellers' attitudes and behaviors, in addition to specific sales techniques.
Prospect the Sandler Way addresses the need to transform the following:

Attitudes - a salesperson's mindset and confidence level towards selling.
Behaviors - the daily accountabilities and activities that lead to success.
Techniques - the things that should be said or done at each individual step of the sales process to produce a positive outcome.
"Many sales people we deal with believe that prospecting is the worst part of their job," says Sandler Training President Chuck Terry.
"John has written an amazing book that breaks down Sandler Training's "No Pressure" prospecting approach into a simple, effective 30 day turn-key program," continued Mr. Terry.
The new book may be purchased online at Amazon or you can pick up a signed copy at the Sandler Training Center in Lone Tree, CO.
About Sandler Training
Founded in 1967, Sandler Training is the largest provider of sales, leadership and customer service training in the world, serving businesses of all sizes with short- and long-term programs that offer continuous coaching, reinforcement and support for sales professionals.
This novel philosophy of "reinforcement training" was developed by David Sandler, considered one of the most innovative sales trainers in America. For more information about Sandler Training, visit http://www.SalesGrowthMD.Sandler.com.