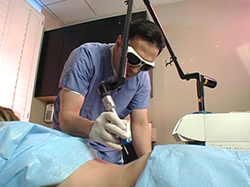 Los Angeles, CA (PRWEB) April 28, 2014
Simon Ourian, Cosmetic Dermatologist and Medical Director of Epione Medical Corporation, announced today a new program to provide free radiation mark removal treatments for Ronald Reagan UCLA Medical Center and Cedars Sinai cancer patients. The marks are tattoos used as aiming points by radiation therapists to accurately direct therapeutic, cancer- killing doses of high-energy radiation.
"Unfortunately, my family has too often been touched by cancer and I'm personally familiar with the heroic work done by the physicians and staff at Cedars-Sinai and Ronald Reagan UCLA Medical Center," says Dr. Ourian. "I'm grateful that I have this opportunity to give back to the survivor community. I feel it's the least I can do."
It is common for cancer patients receiving radiation therapy to have their area(s) of treatment permanently marked or tattooed to provide an aiming point for their radiation therapist. It is vital that each radiation dose be aimed at precisely the same point to maximize the effect of the treatment and to minimize damage to neighboring tissue. Radiation tattoos are typically blue or black and about 1 millimeter in diameter. Four or more dots will be tattooed, each serving to mark a corner of the treatment area.
Some cancer patients may choose to keep their radiation marks as a reminder of what they've endured and survived. Other patients may be advised by their oncologist to keep their tattoos as a visual reference for other physicians. For that reason, prospective patients must provide a letter of approval from their treating radiologist or oncologist.
"The radiation mark or tattoo removal process is fairly simple," continues Dr. Ourian, "especially when contrasted with all that these survivors have endured. The laser tattoo removal process is quick, relatively painless, and requires no downtime."
Epione Beverly Hills has been a leader in minimally-invasive aesthetic medicine and laser technology. Products offered include Botox, Radiesse, Sculptra, Restylane, and Juvéderm. Procedures are available to treat or reverse conditions such as wrinkles, stretch marks, varicose veins, cellulite, skin discoloration, acne, and acne associated scars. More information about laser tattoo removal can be found on Epione's website.