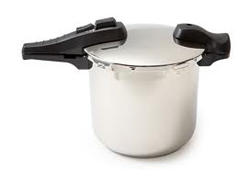 Cuisine Santé International cookware is working to improve your health and our planet
Ottawa, Ontario (PRWEB) April 30, 2014
To accompany the very popular line of cookware, Cuisine Santé International has introduced a line of cookware accessories, sure to belong on your wish list. Made of an exclusive blend of chrome-titanium, and all with their famous lifetime guarantee, their new Oval Roaster, Wok and Pressure cooker will be the envy of every kitchen chef.
Our exclusive chrome titanium cookware set is your long term partner working to improve your health and the health of your family. We care about you and we care about our environment. Cuisine Santé International is proud to be a responsible company successfully protecting the environment.
Available for individual purchase these products are also available through the Cuisine Santé referral program. Cuisine Santé features a rewarding program where attendees can refer their friends and earn amazing products available through their various worldwide locations.
To view the products, learn more about the company, or join one of the trademark cooking shows visit their website at:
http://www.csil.ca
Like us on Facebook
Check out our new blog at http://cuisinesantereview.com
Contact us:
1260 Old Innes Road Suite 601
Ottawa, Ontario, K1B 5L3
613-288-9020
E-mail: info(at)csil(dot)ca