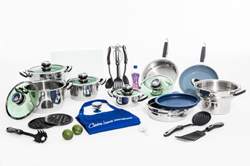 Save up to 60% on your energy bill.
Ottawa, Ontario (PRWEB) May 02, 2014
The Cuisine Santé International cookware has been available for over a decade, having launched in 2002. This is not only the healthiest cookware available but it makes even more economical sense when electrical bills are skyrocketing. The 7-layer encapsulated bottom provides even heat conduction and allows for cooking the majority of the time on low heat. Additionally the removable thermometer shows the exact internal temperature without raising the lid and losing essential nutrients. In keeping with the tradition of having an eye for the future, Cuisine Santé cookware has always been ready for the emerging trend of induction stoves in modern kitchens.
Recently Cuisine Sante International introduced the newly design Munich 27 piece cookware set.
"Being induction ready is a tremendous advantage we have over surgical stainless steel products which do not work on the energy efficient induction stoves," explained company President Toufic Khayrallah. Induction stove technology uses magnetism to heat cookware, and does it with incredible energy efficiency. This technology has been widely embraced for over a decade in Europe, and now it is available in North America.
Cuisine Santé also carries a single burner induction stove which makes an excellent accessory for dorm rooms, camping, RV's and more.
To view the products, learn more about the company, or join one of the trademark cooking shows visit their website at http://www.csil.ca.
Check out new blog at http://cuisinesantereview.com.
Contact info:
1260 Old Innes Road Suite 601
Ottawa, Ontario, K1B 5L3
613-288-9020
E-mail: info(at)csil(dot)ca